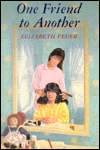 Name of Book:
One Friend to Another
Author:
Elizabeth Feuer
ISBN:
0-671-66700-9
Publisher:
Archway Paperback
Type of book:
Growing up, friendship, envy, middle school, 1980s
Year it was published:
1987
Summary:
I wasn't going to be the "Amazing Brain" anymore
Not this year. Not when I had the chance to make a fresh start at a brand new school. I'd had enough of being the smartest kid in the class. This year was going to be different. I was going to be popular!
Now, some things are easier said than done. But when I got to be friends with Rhonda Winkler- the prettiest, most popular girl in school-I thought I had it made. I even met this guy, Andrew, and fell madly in love. There was just one problem: Rhonda's sidekick, Randy. She didn't like me much, and she sure didn't want me getting too close to Rhonda. I didn't realize just how hard she'd try to destroy our friendship, however, until it was too late. And that's when I learned what true friendship is all about.
Characters:
The characters seemed to be a bit two dimensional and all this book we were stuck with Nicki. Although Nicki is an interesting character, I think that in this point, it would have been interesting to know things from Rhonda's point of view. I mean, why she saw Nicki the way she did when she was practically envy of the whole school.
Theme:
You don't know which people envy you or want to be you.
Plot:
First person point of view from Nicki's side of the story. As I mentioned, I had a difficult time understanding why someone who seems to have everything would be jealous of someone who is not popular and is shunned as a pariah. Very often, the rich do not envy or want to be the poor. Interesting plot but I do wish that Rhonda would be the one telling the story and not Nicki.
Author Information:
Elizabeth Feuer studied medicine at Yale University and specialized in pediatrics and public health. She attended the State University of New York at Stony Brooke, from which she received a B.S. in biology. Dr. Feuer has always loved to write. She has written short stories for adults. She has two children, Benjamin and Eathan. One Friend to another is her first novel.
Opinion:
To me personally the ending was confusing because it wasn't well explained how a character accomplished such feats. But overall it was an enjoyable book and very unique growing up and coming of age story. It can also cause you to think differently, although I have a hard time believing that high status people often envy low status people.
4 out of 5
(0: Stay away unless a masochist 1: Good for insomnia 2: Horrible but readable; 3: Readable and quickly forgettable, 4: Good, enjoyable 5: Buy it, keep it and never let it go.)