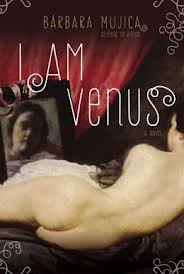 Name of Book:
I am Venus
Author:
Barbara Mujica
ISBN:
978-1-4683-0657-6
Publisher:
The Overlook Press
Type of book:
1619-1660, Spain, Golden Age, Royalty, Art, wars, countryside, city, court
Year it was published:
2013
Summary:
(from tlc.com)
I Am Venus chronicles the relationship between the great Baroque Spanish painter Diego Velázquez and the woman who became his Venus. Author Bárbara Mujica vividly reimagines the great artist's rise to prominence, set against the backdrop of political turmoil and romantic scandal. Narrated by the mysterious model who posed for Velázquez's only female nude, "The Rokeby of Venus," I Am Venus is a seductive historical novel of the love between an artist and his muse.
The year is 1619, and Diego Velazquez is a rising star at an art academy in Seville run by his father-in-law. But even as his young wife builds him a family, the painter finds himself yearning for a larger canvas, and soon his ambition lands him at the court of King Philip IV, where his star quickly rises, even as Spain finds itself plunged into military defeat and domestic chaos.
But as he gains nobility and privilege, Velázquez encounters the sinful decadence that defines the regime. As he finds himself torn between loyalty to family and the easy seductions of power, Velázquez decides to take on his riskiest painting yet, which could, in a stroke, land him in the claws of the Inquisition.
I Am Venus is a sweeping story of scandal and passion, and a vivid recreation of a corrupt kingdom on the brink of collapse. Reminiscent of Girl with a Pearl Earring, it is a thrilling novel that brings to life the public and private worlds of Spain's greatest painter.
Characters:
Although the characters did seem to be interesting, I wished that there was more focus on Diego. I felt that there was too little focus on their humanity so to speak. Juana is Diego's wife who strikes me as traditional, a little vain and what one would call a good girl. Diego is described as ambitious and very lucky. There are other characters, but not a lot of focus on them.
Theme:
What rises must fall
Plot:
Perhaps more than 90 percent of the book is written from the third person narrative, from Juana's point of view, while another ten percent is written from first person narrative, from the mysterious woman who lives in a convent and posed for the painting titled The Toilet of Venus. I feel that the two narratives didn't connect well and they seemed to be a little awkward for me.
Author Information:
(from tlc.com)
Barbara Mujica is a novelist, short-story writer, essayist and professor at Georgetown University. Her latest novel, I Am Venus (Overlook Press), explores the identity of the model for the famous Rokeby Venus, the only extant female nude of seventeenth-century Spanish painter Diego de Velázquez. Her previous books include the critically acclaimed novels Frida, based on the relationship between Frida Kahlo and Diego Rivera, and Sister Teresa, about the life of Saint Teresa de Avila, both published by Overlook. A play based on the latter is currently being developed by The Actors Studio in Los Angeles.
Mujica has won numerous prizes for her stories, which have appeared in magazines and anthologies. Her essays have appeared in The New York Times, The Washington Post, The Miami Herald, The Dallas Morning Star, and hundreds of other publications.
A Professor of Spanish at Georgetown University, Dr. Mujica writes extensively on Spanish literature. She has twice been named one of Georgetown's most influential professors by the Academic Council.
Since her son, a U.S. Marine, returned from Iraq in 2008, Mujica has devoted much of her energy to serving transitioning veterans. At Georgetown she is faculty adviser of the Georgetown University Student Veterans Association (GUSVA) as well as Associate Facilitator of the Veterans Support Team, a coalition of faculty, administrators, and students. Recently she has begun writing about issues pertaining to student veterans. For more information please visit www.barbaramujica.com.
Opinion:
This really is a fascinating account of what Spanish life was like in the seventeenth century. It can be seen as sort of a biography for Diego's wife, and historically wise I did become more curious about Spain. Very often I forget that before England became the superpower, Spain preceded it. History wise its fascinating, but I think for a fictional novel it needs a little more work. For me personally there seemed to be a tug of war between history and characters, and neither seemed compelling, I'm sorry to say. I also would have liked there to be pictures of what Diego drew, just something I can refer to without going on computer which is distracting. The twist is pretty cool in my opinion, and learning history as well as fascinating nuggets of information that only one person was paid to and others weren't paid, or more details about royalty and the wars, and Spanish view on interracial marriage, as well as treatment of Muslims, or Moriscos.
This is for TLC Book Tour
3 out of 5
(0: Stay away unless a masochist 1: Good for insomnia 2: Horrible but readable; 3: Readable and quickly forgettable, 4: Good, enjoyable 5: Buy it, keep it and never let it go.)