G239 Book Review of the Golem and the Jinni by Helene Wecker
Name of Book:
The Golem and the Jinni
Author:
Helene Wecker
ISBN:
978-0-06-211084-8
Publisher:
Harper Perennial
Type of book:
Fantasy, Golem, history, Jinni, reincarnation, memories, master vs slave, obedience, mythology, folklore, New York, 1899-1900, different paths to one goal
Year it was published:
2013
Summary:
Chava is a golem, a creature made of clay, brought to life by a disgraced rabbi who dabbles in dark Kabbalistic magic. When her master, the husband who commissioned her, dies at sea on the voyage from Poland, she is unmoored and adrift as the ship arrives in New York in 1899.
Ahmad is a jinni, a being of fire, born in the ancient Syrian desert. Trapped in an old copper flask by a Bedouin wizard centuries ago, he is released accidentally by a tinsmith in a Lower Manhattan shop. Though he is no longer imprisoned, Ahmad is not entirely free – an unbreakable band of iron binds him to the physical world.
The Golem and the Jinni is their magical, unforgettable story; unlikely friends whose tenuous attachment challenges their opposing natures – until the night a terrifying incident drives them back into their separate worlds. But a powerful threat will soon bring Chava and Ahmad together again, challenging their existence and forcing them to make a fateful choice.
Characters:
The characters do change through the book and they are very fascinating. Chava is a golem who is best described as overly cautious, a sort of frightened rabbit, and she is detailed and a very hard worker as well as loyal and willing to sacrifice herself for others. She is without a master. The Jinni is attention loving, brave, reckless, fearless and very capricious with little thought to action and consequences. Despite these two characters my favorite one has to be the villain, Chava's creator by the name of Yehudah Schaalman who has a very fascinating history and an interesting personality. I also didn't sense a lot of chemistry between Chava and Ahmad unfortunately, since I think the author might have meant for them to be together.
Theme:
Opposites attract
Plot:
Its written in third person narrative from what seems to be everyone's point of view. From beginning towards almost the ending the pacing is slow to sort of accommodate Chava's learning of humanity as well as her becoming comfortable and figuring herself out. However towards the end, the pace picks up abruptly and the reader literally races through sort of confusing ending as well as what the characters have decided to do. I really have to applaud the plot and the story idea because I can honestly its the first time I ran into such a unique storyline.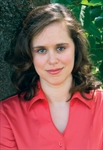 Author Information:
(From TLC)
Helene Wecker received a BA from Carleton College in Minnesota and an MFA from Columbia University in New York. A Chicago-area native who has made her home in Minneapolis, Seattle, and New York, she now lives near San Francisco with her husband and daughter. The Golem and the Jinni is her first novel.
Opinion:
The book certainly deserves its fame, being nominated in Goodreads and so forth. I am very happy as well as honored to have read and reviewed the book. The plot, the writing, the characters have really blown me away: I loved the slow pace of the book, and when I read it, I felt that I was reading a Jewish fairytale book by Howard Schwartz, which is a compliment. The book also tickled my history bones by giving me lots of fascinating details during that time as well as introducing me to a section I never even knew that existed: Little Syria in New York. I also enjoyed the compare and contrast between Chava and Ahmad characters. However what I wasn't happy with is that towards the end I was very confused about a lot of things, the pacing quickens and I lacked understanding towards certain things: like what exactly was wrong with Sophia? And how was a certain feat accomplished? If I could rate it in halves, I would rate it 4.5 actually.
This is for
TLC Book Tour
Helene's Tour Stops
4 out of 5
(0: Stay away unless a masochist 1: Good for insomnia 2: Horrible but readable; 3: Readable and quickly forgettable, 4: Good, enjoyable 5: Buy it, keep it and never let it go.)