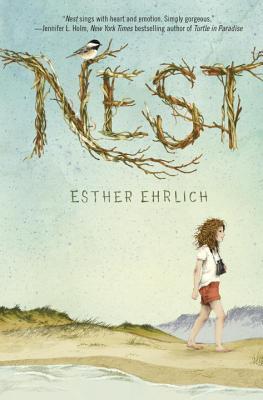 Name of Book:
Nest
Author:
Esther Ehrlich
ISBN:
9780385386074
Publisher:
Wendy Lamb Books
Type of book:
Cape Cod, Massachusetts, New Jersey, holding on, death, tragedy, multiple sclerosis, psychology, family, nest, birds, friendship, destruction, Judaism, mental institution, 1970s, school, teens, lessons, suicide
Year it was published:
2014
Summary:
For fans of Jennifer Holm (Penny from Heaven, Turtle in Paradise), a heartfelt and unforgettable middle-grade novel about an irresistible girl and her family, tragic change, and the healing power of love and friendship. In 1972 home is a cozy nest on Cape Cod for eleven-year-old Naomi "Chirp" Orenstein, her older sister, Rachel; her psychiatrist father; and her dancer mother. But then Chirp's mom develops symptoms of a serious disease, and everything changes.
Chirp finds comfort in watching her beloved wild birds. She also finds a true friend in Joey, the mysterious boy who lives across the street. Together they create their own private world and come up with the perfect plan: Escape. Adventure. Discovery.
Nest is Esther Ehrlich's stunning debut novel. Her lyrical writing is honest, humorous, and deeply affecting. Chirp and Joey will steal your heart. Long after you finish Nest, the spirit of Chirp and her loving family will stay with you.
Characters:
The main character is Naomi "Chirp" Orenstein, an eleven year old Jewish girl who is fascinated by birds and often learns fascinating facts about them. She is best described as dreamy, a little bit narrow-viewed, and obsessive to holding on and also is a talented dancer. Her mother is bubbly, also a dancer, and seems to enjoy life a lot as well as dedicating a lot of time to Chirp and Rachel. She also loves nature, loves lemon meringue pie, and is seen as a pillar by her family. Chirp's father is a psychologist and very often exhibits that persona even at home with both Chirp and Rachel which kind of makes for some awkward moments, at least for me. He also treats both girls as adults. Rachel is Chirp's older teenage sister who is a bit selfish, demanding and is best described as normal. But still in some cases, she tries her best to be there for Chirp whenever she can. She and the father also fight a lot. Joey is Chirp's friend and a possible love interest. He seems to understand what Chirp needs and perhaps secretly wants for her to reciprocate what he does. He also seems to come from a negative household and worries way too much about some issues.
Theme:
Its possible to weather the storms
Plot:
The story is written in first person narrative from Chirp's point of view and takes place in 1970s in Cape Cod Massachusetts. In beginning of the story, Chirp and her family are close and happy, with Chirp loving her mother and the activities they do together. I like how we get to know the characters before the tragedies arrive which makes the story much more meaningful. However, tragedies also open up unexpected and different pathways, such as Chirp forging friendship with Joey, or trying to understand her father and older sister, Rachel.
Author Information:
(from goodreads.com)
gender
female
website
member since
March 2013
Esther Ehrlich's debut novel, Nest, is forthcoming from Wendy Lamb Books/Random House in September 2014. Ehrlich was born and raised in Boston, graduated from Vassar College, and lives in the San Francisco Bay Area with her family.
Opinion:
Despite the fact I had to read it on PC, which I don't really like doing, I enjoyed the story and how beautiful it seemed and sounded. This is a book and a story that really stands out from others I've read. The story itself was also addictive for me and I really felt for Chirp and her family as well as what they were going through due to life. I personally would have liked more scenes of Chirp and Joey as well as how they became and plus what was going on in Joey's life. I also enjoyed learning all sorts of fascinating bird facts and enjoyed how the bird and their nests were used in a story and how they compare to real life.
This copy was provided by NetGalley in exchange for review
4 out of 5
(0: Stay away unless a masochist 1: Good for insomnia 2: Horrible but readable; 3: Readable and quickly forgettable, 4: Good, enjoyable 5: Buy it, keep it and never let it go.)