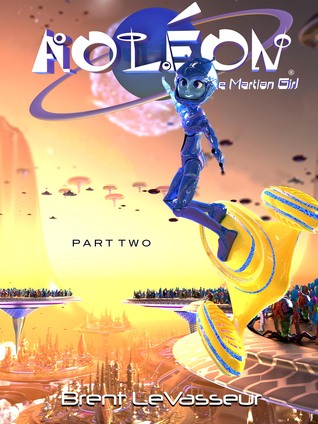 Name of Book:
Aoléon The Martian Girl Part II The Luminess of Mars
Author:
Brent LeVasseur
ISBN/ASIN:
B00S70U8NE
Publisher:
Self published
Part of a Series:
Aoléon The Martian Girl
Type of book:
Mars, daily life, science fiction for middle grades, strong heroine, food, school, more alike than different
Year it was published:
2015
Summary:
Science Fiction Saga - Aoleon The Martian Girl - The Luminess of Mars
Aoléon and Gilbert receive a special mission from PAX, a wanted criminal and leader of the Martian resistance movement to investigate the Luminon of Mars, who he suspects is planning an invasion of Earth to steal its milk cows. Gilbert has an encounter with the Luminess (the mate of the Luminon) and discovers something strange about her during a procession, and the duo are chased by the Royal Paladin Guard.
At Aoléon's home, Gilbert meets Aoléon's family, her sister Una, mother Phobos and father Deimos as well as her overzealous pet Zoot. He is also introduced to Bizwat, a covert operator and Procyon Commando, who uses his Saturn Pizza delivery job as a cover.
Gilbert then gets to visit the Martian Space Academy (Aoléon's school) where he encounters Aoléon's nemesis, Charm Lepton and her friend Quarkina, as well as receiving a history lesson on the Martian people by Plutarch Xenocrates. After class, Gilbert and Aoléon get to train in zero-G and Gilbert is treated to a Psi-ball match between Martian Space Academy and Martian Science Academy.
Characters:
In this part, I feel that more about Aoleon is revealed rather than about Gilbert. Gilbert is still considered an adventurous and a curious as well as an outspoken young friend of Aoleon. Aoleon, it is revealed, has a sister, is also brave, talented and she seems to be unafraid of challenges that are presented to her. She is also a risk taker too. We do get to know some of Aoleon's classmates, but at the moment I'm not sure of their importance and they seem to be more of cutout rather than full fleshed characters.
Theme:
Its important to take time to breathe and to enjoy life
Plot:
The story is written in third person narrative from Aoleon's point of view and some of it comes from Gilbert's as well. What I liked is that this is more of a daily life chapter of Aoleon rather than instant adventure, and one does get to know the characters and some of the politics a bit more.
Author Information
:
(From iRead Book Tours)
Meet the Author:
Mr. LeVasseur enjoys crafting good stories based on lovable characters designed to translate well to multiple media formats such as books, games, movies, and toys. He is an associate member of the Children's Book Council. He lives in New York when he is not commuting between Southern California and Olympus Mons, Mars. His hobbies include writing, 3D animation, musical composition, and intergalactic space travel. He also enjoys various sports such as skiing, running, and exospheric skydiving.
Connect with Brent:
Website
~
Twitter
~
Facebook
~
Aoleon The Martian Girl
Pictures:
I really looked forward to seeing the pictures and I wasn't disappointed in seeing them. If I may say so, they're stunning and beautiful and sometimes seem to be beyond right words to describe. They add more elements to the story and while looking, I had to wonder how they were done?
Opinion:
I have to say that the second part of the Aoleon story, The Luminess of Mars, has won me over. One of the things I feared is that the reader wouldn't have a chance to get to know the world of Mars and see how Martians and its inhabitants live. Long time ago I've read J.R.R. Tolkien, and although as a teen I enjoyed the stories, as an adult I'm really not a fan of them, and one of the reasons is that I wasn't given enough glimpses of simple scenes where characters live without mayhem and war. It seemed as if the human non-war element was heavily missing from them. And yes, I know there are appendices at the end of Return of the King, but let's be honest, once the main story line is done and over, how many will keep reading? Only hardcore fans will do that, and I'm not a hardcore fan to do that. Anyways, back to the review; in this part it seemed as if my secret wishes were answered and I got to see lives of Martians as well as learn a little about what they think is fun and experience the Quidditch like game they have.
This is for iRead Book Tours
Tour Schedule:

Reviews of Aoleon The Martian Girl Part Two:
Feb 2 -
Readers' Muse
- review
Feb 2 -
Girl With Camera
- review
Feb 5 -
One Frugal Girl
- review
Feb 8 -
Reading Authors
- review
Feb 8 -
Science & Fiction
- review
Feb 10 -
Cheryl's Book Nook
- review
Feb 11 -
StoreyBook Reviews
- reviews
Feb 12 -
Christy's Cozy Corners
- review
Feb 12 -
Deal Sharing Aunt
- review
Feb 13 -
The Autistic Gamer
- review
Feb 13 -
TW Brown on Border Collies, Zombies, and the Indie writing scene
- review
Feb 14 -
Bluerose's Heart
- review
Feb 16 -
Words and Peace
- review
Feb 16 -
The Cheshire Cat's Looking Glass
- review
Feb 17 -
fuonlyknew
- review
Feb 18 -
Pinky's Favorite Reads for Kids
- review
Feb 18 -
Pure Jonel
- review
Feb 18 -
Nighttime Reading Center
- review
Feb 19 -
JBronder Book Reviews
- review
Feb 19 -
To Read or Not to Read
- review
Feb 19 -
Suko's Notebook
- review
Feb 20 -
Green and Glassie
- review
Feb 23 -
Svetlana's Reads and Views
- review
Feb 23 -
Brooke Blogs
- review
Feb 23 -
Bound 4 Escape
- review
Feb 23 -
Working Mommy Journal
- review
Feb 23 -
Life with Katie
- review
Feb 25 -
View From the Birdhouse
- review
Feb 26 -
Amia Book Lover
- review
Feb 26 -
allthingsbookie
- review
Feb 27 -
Being Tilly's Mummy
- review
Feb 27 -
Hello, my name is Alice
- review
Reviews of Aoleon The Martian Girl Part One:
(For more reviews of Part One, please visit
Aoleon The Martian Girl Part One: First Contact
)
Feb 4 -
Bluerose's Heart
- review
Feb 6 -
The Autistic Gamer
- review
Feb 6 -
TW Brown on Border Collies, Zombies, and the Indie writing scene - review
Feb 18 -
To Read or Not to Read
- review
Feb 22 -
Hello, my name is Alice
- review
4 out of 5
(0: Stay away unless a masochist 1: Good for insomnia 2: Horrible but readable; 3: Readable and quickly forgettable, 4: Good, enjoyable 5: Buy it, keep it and never let it go.)