Name of Book:
Tangled Omens
Author:
Joni Parker
ISBN:
9781497440289
Publisher:
Village Green Press
Part of a Series:
Seaward Isle Saga
Type of book:
fantasy, flat characters, witches,, elves, military, learning from others, Seaward Isle, stranded on the island, storm, thinking of escape, revenge, engagements, Titans, myths
Year it was published:
2012
Summary:
Alex's adventures continue as she unravels the mysteries of Seaward Isle. In her new role as a Tracker, she is on the trail of a spy called the Horseman who is in cahoots with the pirates to steal Elfin gold. Alex experiences new aspects of her own gifts bestowed on her by her Titan ancestors in this rollicking new adventure.
Characters:
Alex is a pretty flat and boring character who literally succeeds at everything she does and is ridiculously resourceful and talented at everything. If there is conflict, it seemed a bit unbelievable for me because it seems very out of the blue and the book doesn't really show Alex struggle with the conflict for a long time. What might be interesting points of the island get dismissed and Alex's growth is ignored and isn't well addressed. There are other characters, but they are as flat as Alex and it seems that there are stereotyped characters of either having complete masculine characteristics or being completely feminine but very little in between.
Theme:
No idea what it should be
Plot:
The story is written in third person narrative primarily from Alex's point of view and although interesting events do happen, there seemed to be lack of tension in the story for me because I already knew the outcome. (Its not because I knew the ending, but because of lack of weak points or conflict for Alex.) The potential politics are ignored in favor of military and revenge.
Author Information:
(From Pump up your book)
(From PUmp UP Your Book)
Joni Parker was born in Chicago, Illinois, but left the windy city at an early age when her family moved to Japan. Upon return to the United States, her family moved to Phoenix, Arizona where she graduated from Camelback High School and began college. However within months, Joni quit college and joined the Navy where she became a Photographer's Mate. After 3 years in the Navy, she returned to college and got married. She got a Bachelor's degree in Accounting and an MBA before she returned to the Navy. As a Commissioned Officer, Joni attended the US Army Command and General Staff College, completing a Master of Military Arts and Sciences Degree. She retired from the Navy with over 22 years of service and spent several years traveling the United States in a motorhome with her husband. When he died unexpectedly, Joni returned to work for the federal government in a civil service job. Five years ago, she started writing and retired once more to devote more time to her new passion. She currently lives in Texas.
For More Information
Opinion:
Unfortunately, very little of the problems that I addressed in the previous book were fixed. The characters remain undeveloped and there is more focus on action rather than psychology, and once more, if I was a teenager, I would devour this book, I'm sure, but many years too late. Very little is tied together, and if I'm not mistaken, not much is linked to the prequel. I'm not if its in this book or the next one, but the author begins to play with different points of view, and I have to say they don't sound very interesting.
This is for Pump Up Your Book Tour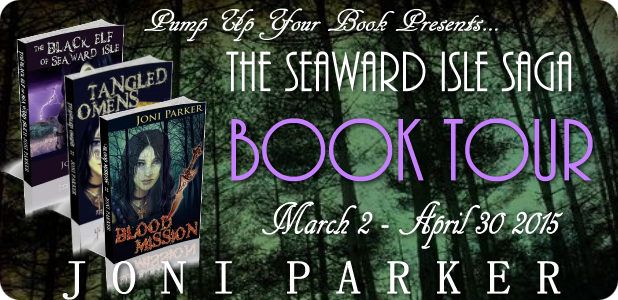 2 out of 5
(0: Stay away unless a masochist 1: Good for insomnia 2: Horrible but readable; 3: Readable and quickly forgettable, 4: Good, enjoyable 5: Buy it, keep it and never let it go.)