Name of Book:
Blood Mission
Author:
Joni Parker
ISBN:
978-1-5029618-4-6
Publisher:
Village Green Press
Part of a Series:
The Seaward Isle Saga
Type of book:
fantasy, action, elves, half elves, water elves, figuring out things, soldiering, missions, blood mission, siblings, friendship, male vs female tasks
Year it was published:
2013
Summary:
When the lives of the two most powerful Elves on Seaward Isle are threatened in a plot by the rogue Elf Mellen, Prince Darin of the Water Elves and Lord Odin of the Tree Elves charge Alex, a young female tracker with a Blood Mission—to hunt him down and kill him, or die in the attempt. Blood Mission puts the fate of the kings and the safety of the inhabitants of Seaward Isle in the hands of a teen-age half-elf warrior. Can Alex survive her mission long enough to discover her own true destiny?
Characters:
For me personally, the characters were a bit more developed and interesting than in previous books, and to an extent, they were memorable, at least the female characters. The male characters weren't very drawn out and most seemed to be either in awe or in love with Alex or else fearful for her.
Theme:
No idea what the theme should have been
Plot:
The story is in third person narrative from a lot of characters' points of view. While the author does have talent for differentiating between the characters and their points of view, I feel that more practice is needed to go into the writing because it wasn't used fully, and for me it reads flat instead of evolutionary. The style is more told than shown. Also, there didn't seem any breaks between different narratives.
Author Information:
(From Pump Up Your Book)
Joni Parker was born in Chicago, Illinois, but left the windy city at an early age when her family moved to Japan. Upon return to the United States, her family moved to Phoenix, Arizona where she graduated from Camelback High School and began college. However within months, Joni quit college and joined the Navy where she became a Photographer's Mate. After 3 years in the Navy, she returned to college and got married. She got a Bachelor's degree in Accounting and an MBA before she returned to the Navy. As a Commissioned Officer, Joni attended the US Army Command and General Staff College, completing a Master of Military Arts and Sciences Degree. She retired from the Navy with over 22 years of service and spent several years traveling the United States in a motorhome with her husband. When he died unexpectedly, Joni returned to work for the federal government in a civil service job. Five years ago, she started writing and retired once more to devote more time to her new passion. She currently lives in Texas.
For More Information
Opinion:
While there did seem a bit improvement to the book, I still had the same feelings and reactions as I had when reading the prequels. The author sends a character that does try to find out more about the Seaward Isle and how it works and I did grow attached to some characters, at least secondary ones, but other than these improvements, the writing style is flat for me, and if I was a young adult, I might have highly enjoyed the series.
This is for Pump Up Your Book Tour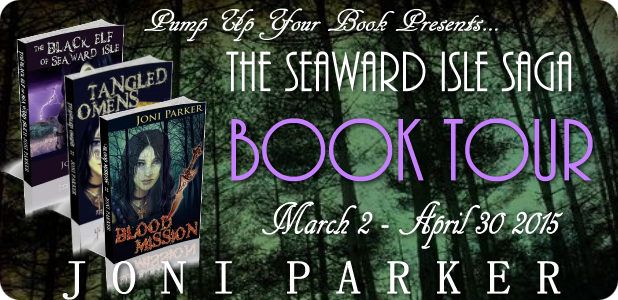 3 out of 5
(0: Stay away unless a masochist 1: Good for insomnia 2: Horrible but readable; 3: Readable and quickly forgettable, 4: Good, enjoyable 5: Buy it, keep it and never let it go.)