G576 Book Review of Boring Girls by Sara Taylor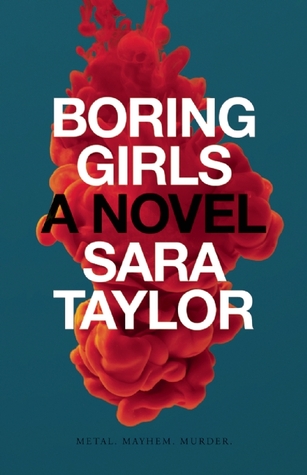 Name of Book:
Boring Girls
Author:
Sara Taylor
ISBN:
978-1-77041-016-9
Publisher:
ECW Press
Type of book:
heavy metal, YA, dark, violent, rape, fame, goals, revenge, struggle, success, friendship, no romance, disrespect in male dominated fields, cursing, murder, isolationism, keeping it inside
Year it was published:
2015
Summary:
Rachel feels like she doesn't fit in — until she finds heavy metal and meets Fern, a kindred spirit. The two form their own band, but the metal scene turns out to be no different than the misogynist world they want to change. Violent encounters escalate, and the friends decide there's only one way forward . . .
A bloodstained journey into the dark heart of the music industry, Boring Girls traces Rachel's deadly coming-of-age, Fern at her side — as the madness deepens, their band's success heightens, and their taste for revenge grows ravenous.
Characters:
The main characters include Rachel and Fern. Rachel is the bolder and the crazier of the two who was raised in a very loving house but due to someone teasing her, she seems to have started to lose her sense of being normal and instead she becomes someone else entirely whenever someone hurts her emotionally and physically. She seems to become some sort of psychopath during her journey. Fern becomes Rachel's best friend and Rachel becomes very protective of her. Fern is a talented guitarist but at the same is hesitant on acting less than savory emotions that Rachel acts on. Socks and Edgar are the two band-mates, Edgar an African American male who comes from a wealthy family and Socks a Caucasian male that seems to be the business manager of the band, slightly older and is very helpful towards other band members. There are other characters such as men from DED, the metal band that was introduced to Rachel during her difficult time as well as some other men, but they didn't play a huge role. Despite the multiple people, the ultimate story is about Rachel and Fern's friendship through thick and thin as well as what happens when any kind of battles occur.
Theme:
Influence is long and deep
Plot:
The story is in first person narrative from Rachel's point of view, and it starts in present times and then it goes to the past of when Rachel started listening to heavy metal, finds a crowd to fit in into, forms a band and then tragic consequences begin happening to her, all of them life changing and important. In many ways I was able to relate to the early Rachel, but then as she grew up, the distance between her and I grew more and more, and as her character becomes more and more caught up and obsessed with heavy metal and so forth, I wasn't able to relate to her anymore, although in some ways, its a similar tale of sorts of how one becomes obsessed with something; me with books in particular, minus the murders and rape (reading about them doesn't really count...) Anyways, no matter what walk of life you come from, or what your hobbies are, its a pretty vital read to first of all see what would happen when we acted on our fantasies, and to when we take some things way too far.
Author Information:
(From a dream within a dream blog)
Sara Taylor sings and writes songs for the Billboard-charting band The Birthday Massacre. She lives in Toronto, Ontario, with her Shetland sheepdog.
Opinion:
Seriously speaking, the summary for the book doesn't really do justice for how exciting and mind-blowing the story is, along with numerous twists and turns that the story takes through years and times. Its definitely a unique story that discusses women in traditional male fields, or perhaps when women are active in something that's associated with masculine interest (video games, metal music, etc.) how are these women seen and treated as? Not good. It seems almost a war of sorts between modern and traditional roles and it seems that neither side wins, ultimately. It is a pretty dark book filled with violence, curse words and even murder. The story also has psychology built in, which I've enjoyed in trying to figure out Rachel and Fern. Also, if you are seeking a story that doesn't have a woman being focused on a relationship, then this is one of the boos to get.
This is for ECW Press
Review, The Book Tales, http://thebooktales.com/the-disturbing-ambitious-thriller-that-delivered-boring-girls-by-sarah-taylor/, April 6, 2015
Review and Excerpt (
Ch
. 3),
Book Bug
, https://bookbug2012.wordpress.com/2015/04/07/
boring-girls-by-sara-taylor-excerpt-review-blog-tour
/, April 7, 2015
5 out of 5
(0: Stay away unless a masochist 1: Good for insomnia 2: Horrible but readable; 3: Readable and quickly forgettable, 4: Good, enjoyable 5: Buy it, keep it and never let it go.)