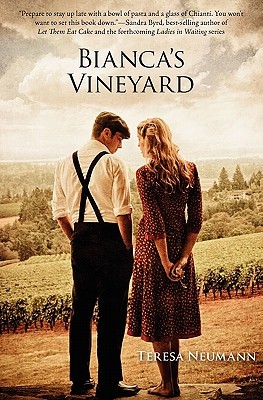 Name of Book:
Bianca's Vineyard
Author:
Teresa Neumann
ISBN:
978-0-9831210-0-8
Publisher:
All's Well House
Type of book:
Italy, America, mental illness, 1913, 1923-1930, 1931-1941, 1943-1946, 2001, travel, immigrants, family, culture, sacrifices, talents, WWII, occupation, laws, generations, vineyard, wines, survival
Year it was published:
2011
Summary:
Bianca Corrotti's vineyard is more than a piece of mouth-watering real estate in Tuscany. It's an inheritance; a storehouse harboring the secrets of her Uncle Egisto, a world-class sculptor, and his troubled wife -- a woman whose destiny converges with Mussolini's when WWII overtakes them all. Based on a true story, Bianca's Vineyard follows a devoted family of strong-willed men and lion-hearted women waging an epic battle against a gathering storm intent on destroying their lives.
Characters:
The main characters include Armida, Egisto's wife who becomes upset and jealous of another woman and becomes unhappy. She is a very strong character with conflicted emotions and motivations and puts immediate family before herself. Egisto, from what I can gather, is Armida's husband and is far more liberal than his brothers. He seems to be willful, defiant, creative with sculpting, regretful and nurses pain for life. Other characters include Bianca, Carmela, Carilda, Luigi and Francesco. Luigi and Carmela are Egisto's parents. Luigi has a soft spot for Bianca and understands the value of the women surrounding him. I found him a likable character. Carmela is his wife and is very determined to see her children become successful and to leave something for her only daughter. Carilda is Bianca's mother and is best described as loyal and someone that gives up her dreams just to help others. Bianca is very loyal to her family as well and she is very kindhearted and does whatever she can for less fortunate.
Theme:
Some things always remain mysteries
Plot:
The story is written in third person narrative, primarily from Egisto's and Armida's points of view. While other characters do show up, mainly Bianca and Egisto's father, the story focused a lot on Armida and was trying to understand her. I have to say that I had a hard time understanding her motivations and I couldn't really decide what was wrong with her. At times there is first person narrative from Bianca as she is telling the story to the American relatives that decided to visit Italy. There is a a lot of mix of different genres, but that made the story more likable for me, and despite the themes and topics that the author presented, I can easily imagine sitting within the nature, drinking something delicious and calmly reading the book, feeling philosophical about the sunset and life.
Author Information:
(From Italy Book Tours)
Meet the Author:
Teresa Neumann and her musician husband live in Oregon's beautiful Willamette Valley near their three children. As well as being an author and journalist, Teresa loves to fiddle on her violin and live "la dolce vita" in Italy whenever she can talk her family into going with her.
Connect with Teresa:
Website
~
Facebook
~
Twitter
Opinion:
I found the book to be very beautiful and it also has an addictive style of writing that gives another view to modern Italian history and culture. I enjoyed learning about WWII through Italians' eyes and I also liked learning about the family and the importance of family to Italian culture. What is interesting is the title, which is left up to the reader's interpretation. From the title, I thought the story would be about Bianca, but the story is more about Bianca, its something timeless and eternal and where hopes have miracle of coming alive. What's also important is that its not a mafia story and while there is corruption going on, the focus is on family and how history and places impact that family.
This is for Italy Book Tours
Tour Schedule:
May 4 - Book Loving Hippo - review / author interview / giveaway
May 4 - The Autistic Gamer - review
May 5 - Deal Sharing Aunt - review / giveaway
May 6 - Diary of an Eccentric - review
May 6 - Working Mommy Journal - review / giveaway
May 6 - 2 Kids and Tired Books - book spotlight / giveaway
May 7 - Griperang's Bookmarks - review / author interview / giveaway
May 8 - Italophilia - book spotlight
May 11 - Vic's Media Room - review / guest post
May 12 - Girl With Camera - review / giveaway
May 13 - Svetlana's Reads and Views - review
May 13 - Life with Katie - review / giveaway
May 14 - Rockin' Book Reviews - review / author interview / giveaway
May 15 - Booknerd - review
May 18 - Allthingsbookie - review / giveaway
May 18 - Kathryn Cooper Writes - review
May 19 - Tragically Dull Adventures of an Almost Librarian - review
May 19 - Essentially Italian - review / giveaway
May 20 - My Devotional Thoughts - review
May 20 - Nighttime Reading Center - review / giveaway
May 20 - Nighttime Reading Center - author interview
May 20 - Readers' Muse - review / guest post / giveaway
May 21 - View from the Birdhouse - review / giveaway
May 22 - Il Mio Tesoro - review / author interview
May 22 - Library of Clean Reads - review / giveaway
May 22 - Sarah Rehmatullah - review
4 out of 5
(0: Stay away unless a masochist 1: Good for insomnia 2: Horrible but readable; 3: Readable and quickly forgettable, 4: Good, enjoyable 5: Buy it, keep it and never let it go.)