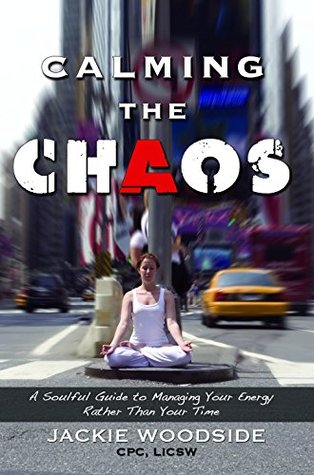 Title of the book:
Calming the Chaos; A Soulful Guide to Managing Your Energy Rather than your time
Author:
Jackie Woodside
Publisher:
Next Century Publishing
Publishing Date:
2015
ISBN:
978-1-62903-822-3
Summary:
Far too many people in contemporary culture feel they don't have enough time to "get it all done." The stress of this chronic overwhelm creates a disorganized mind that leads to a chaotic life. Based on her highly acclaimed "Energy Management" workshops, and drawn from over 25 years of counseling and coaching experience, professional trainer and speaker Jackie Woodside shares her breakthrough methods that lead to becoming the least stressed, most productive person you know!
In Calming the Chaos, you will learn the step-by-step skills and thought processes that lead to increased productivity and peace of mind. Jackie's approach stems from the new frontier of human performance called energetic consciousness. Part philosophy, part psychology, fully practical application, you will learn:
- Why there is no such thing as time management and what to do instead.
- How to manage your energy instead of your time and stress.
- The three-step formula for managing every component of your life for the rest of your life!
- Why "to-do lists" are a set up for failure and what really works.
- "The Three Strikes Rule" that will end procrastination for good!
- How to always know that you have the time for what you want and need to do!
Many books promise to change your life. Applying these principles will make this a reality!
Author Info:
(From iRead Book Tours)
Meet the author:
Jackie Woodside, CPC, LICSW is a psychotherapist, coach, speaker and author, specializing in the power of managing personal energy, rather than time or stress. An Amazon bestselling author of 'What If It's Time for a Change?' and highly sought-after speaker on leadership and empowerment topics, Jackie conducts training programs for public, private and government sectors nationwide.
Connect with Jackie:
Website
~
Twitter
~
Facebook
Personal Opinion:
The book definitely has promise and is an interesting combination of spirituality with learning to feel peaceful in today's hectic environment. I didn't expect it to discuss spiritual issues such as negative thoughts versus positive thoughts, how to stay calm and how to be more productive. The book asks the reader to change their thoughts and ideas from one way to a different way; one example is using the word productive instead of busy, and of how a cluttered area can block the productiveness. I have to say that some of the ideas that the author presented were a little over my head and seemed contradictory such as the idea of schedule and to-do list because at one point I felt that she was saying to create a sort of schedule, but then the schedule is limiting or something of the sort.
This is for iRead Book Tours
Tour Schedule:
June 1 -
Sarah Rehmatullah - review
June 1 -
Mama Knows Books
- review
June 2 - View from the Birdhouse - review / giveaway
June 3 -
Laura's Interests
- review / giveaway
June 4 -
T's Stuff
- book spotlight / author interview / giveaway
June 5 -
Green and Glassie
- review / author interview / giveaway
June 8 -
Genuine Jenn
- review / giveaway
June 8 -
Overstuffed
- review
June 9 -
Divas with a Purpose
- review / author interview
June 9 -
Writers and Authors
- book spotlight / giveaway
June 10 -
I'd Rather Be at the Beach
- review / giveaway
June 11 -
Life with Katie
- review / giveaway
June 11 -
A Mama's Corner of the World
- review / giveaway
June 12 -
Deal Sharing Aunt
- review / giveaway
June 15 -
Book Stop Corner
- review / author interview / giveaway
June 16 -
Svetlana's Reads and Views
- review
June 16 -
Seaside Book Nook
- review / giveaway
June 17 -
Back Porchervations
- review / author interview
June 18 -
Writers and Authors
- book spotlight / guest post
June 19 -
Create With Joy
- review / giveaway
June 22 -
Rockin' Book Reviews
- review / author interview / giveaway
June 23 -
Readers Muse
- review / guest post
June 24 -
Library of Clean Reads
- review / giveaway
June 25 -
Redhead.with.book
- review / giveaway
June 26 -
One Frugal Girl
- review / giveaway
TBD -
My Bookshelf
- review
TBD -
Breath of Life
- review / guest post / giveaway
4 out of 5
(0: Stay away unless a masochist 1: Good for insomnia 2: Horrible but readable; 3: Readable and quickly forgettable, 4: Good, enjoyable 5: Buy it, keep it and never let it go.)