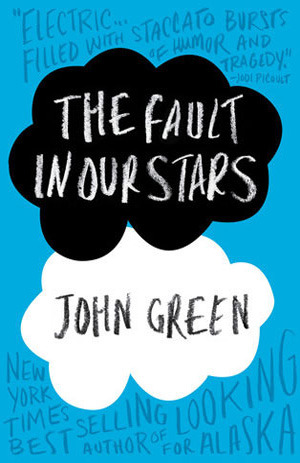 Name of Book:
The Fault In Our Stars
Author:
John Green
ISBN:
978-0-14-242417-9
Publisher:
Penguin
Type of book:
Teenage cancer, pretentiousness, "Ooh look, aren't I cool by stretching out so many metaphors?" offensive, frustrating, "romance," "true love", death, pointless metaphors, Indiana, overseas travel
Year it was published:
2012
Summary:
Despite the tumor-shrinking medical miracle that has bought her a few years, Hazel has never been anything but terminal, her final chapter inscribed upon diagnosis. But when a gorgeous plot twist named Augustus Waters suddenly appears at Cancer Kid Support Group, Hazel's story is about to be completely rewritten.
Insightful, bold, irreverent, and raw, The Fault in Our Stars is award-winning author John Green's most ambitious and heartbreaking work yet, brilliantly exploring the funny, thrilling, and tragic business of being alive and in love.
Characters:
Oh god, the characters! Do I have to recall them? Do I have to delve into the deepest psyche of my human consciousness to explore the concept of why the deepest anger burns and bubbles like Macbeth's witches over a cauldron just at the thought of Hazel and Augustus living the human existence? The characters, both Hazel and Augustus, are extremely pretentious snobs. Right away I felt alienated from them and their "special" existence. Although its been a few years, I still fondly recall the older works of Christopher Pike, namely The Eternal Enemy, and Whisper of Death. The level of sympathy and emotion that Christopher Pike managed to evoke within me is something that John Green completely failed to do. But yes, the characters for me are unlikable, unsympathetic, snobby, rude, pretentious and very hypocritical. Even if you don't light up that cigarette Augustus, the money you give to the company will be used to kill more people. How do you justify that? Murder a million to save one? Hazel is very flaky and not believable as a human being. She refuses to grow and doesn't really see outside of herself. She has zero sympathy for her parents as well as others and doesn't attempt to establish any empathy for anyone but Augustus.
Theme:
There are things we will never learn
Plot:
The story is written in first person narrative from Hazel's point of view. What else can I say that will lend credibility of me reviewing the story within the complexity of narrative within the endless balls of stars? The story does a very poor job of making me feel bad for the characters and their situation. First of all, I'm not insulting the cancer characters or anything of the kind, but am simply insulting the author's writing. The scenes are unbelievable and eye-rolling and to be honest, the love felt forced instead of something genuine. I don't know if its on purpose or not, but very little is resolved, and unfortunately, this is one of the books that I couldn't wait for it to be over. I couldn't get invested in the story nor in the characters. Seriously speaking, I've read unfinished stories that are a whole lot better than this (Tale of Genji, and perhaps Dream of Red Chamber which is considered unfinished?) yet this is called a "genius" story. Also, the writing style, ugh, its as if the author couldn't decide whether to make the characters real teens or 50 year old people in bodies of teens.
Author Information:
(From goodreads.com)
born
in Indianapolis, The United States
gender
male
website
twitter username
genre
influences
member since
January 2013
Opinion:
*Sighs* when will I learn the lesson that mine and mass media's opinions are rarely, if ever, compatible when it comes to literature? Perfect example? Fifty Shades and Twilight series for one. Apparently I must relearn this lesson in the most of difficult ways. I hate being in minority when it comes to disliking popular literature, but yet once more I must be in the small circle of haters. There has to be not a single thing I liked at all about the book! Not the pretentious language that the characters use with one another which makes them extremely irritating, not the stupid metaphors of only placing a cigarette between the lips yet not lighting it up, and not the romantic scenes. (Seriously? Kissing in Anne Frank's house? Couldn't you be more respectful and kiss elsewhere? Here's a cool idea: fly to Italy and reenact the scene of Romeo and Juliet in Verona! That would be far more fitting instead of desecrating the heritage that I and many on earth share!) It can't have been a good sign where I thought of many books that were touching yet will never achieve the popularity that this pretentious piece of fecal matter has achieved. Before reading this...thing, I often thought that certain people made too much of a big deal about giving a lot of attention to male authors. Yet as I was reading it, all I could wonder is why am I not still seeing Eleanor and Park by Rainbow Rowell movie? Why have there never been books made into movies by Lurlene McDaniel? Why has this piece of defecation achieved so much, yet the authors I enjoy and continue to think about cannot achieve this level of fame? I've read small parts of it to my friends and the consensus that they come to is that the book is way too wordy. One of mine friends even pointed out that its not the quantity that matters but quality. Here's another lesson I should have learned: If there's a book that Jodi Picoult gives positive review to, run for my life!
Jen-Jen, I may not like the book, but I still like you!
0 out of 5
(0: Stay away unless a masochist 1: Good for insomnia 2: Horrible but readable; 3: Readable and quickly forgettable, 4: Good, enjoyable 5: Buy it, keep it and never let it go.)