Title of the book:
Let's talk about Tickling
Author:
Veronica Frances
Publisher:
Blue Note Publishing
Publishing Date:
2015
ISBN:
978-0-9903068-8-7
Summary:
Let's Talk About Tickling is an honest, straightforward discussion about tickling. Discover the many different aspects of tickling—the fantasies, the realities, the many paradoxes of the tickling fetish and how to come to terms with ones own sensuality.
A refreshing and very welcome find, Let's Talk About Tickling is for anyone who wishes to expand their awareness of tickling and other related fetishes. This book will be of great interest to anyone who wants to get in touch with their sensual self, whether they have a tickling fetish or not.
Author Veronica Frances offers her readers the chance to improve their relationships in and out of the bedroom by shining a light on the powerful significance of tickling. She reminds us that tickling is not merely the whisper of a feather on the flesh. It is an echo that calls us from deep within, beckoning us to listen and respond.
Author Info:
(From pump up your book)
For More Information

Veronica Frances is the author of the gutsy, no-holds-barred novel,

Tickling Daphne H.

Her new non-fiction book

Let's Talk About Tickling

sheds a refreshing new light on the subject

.

She is known as the TickleWriter in some circles.

Veronica also writes under her real name, Stacey Handler. Stacey is the author of The Body Burden; Living In The Shadow Of Barbie. Her book was featured in Jump Magazine, Australian Women's Weekly, The National Enquirer, and several other publications, radio shows and cable TV shows.

Stacey excels at public speaking, singing, composing, and writing. She is a singer-songwriter, poet, and has written in many different styles. She has an album and several singles available, including her two popular anthems, Ain't No Skinny Little Thing and Soap Opera Diva.

She lives in New York City, where she continues to write erotica, fiction, poetry and non-fiction.
For More Information
Personal Opinion:
To be honest, I really wasn't sure what to expect when I began reading and reviewing the book, but I doubt I expected to find out that apparently tickling can be something akin to a fetish, and that there are people who derive erotic pleasure from it. I did learn a few things from the book such as the importance of communication and to let your partner know of your desires and how they're not going to go away, fetish or not, but I think overall I couldn't connect with the tickling fetish, although I'm beginning to suspect that someone I know seems to enjoy being the dominant in tickling.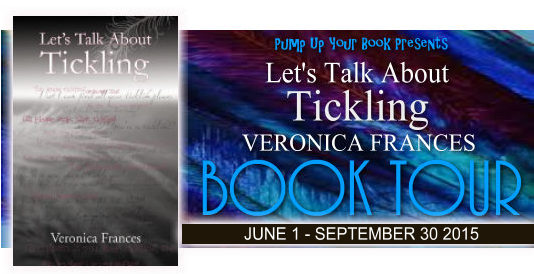 3 out of 5
(0: Stay away unless a masochist 1: Good for insomnia 2: Horrible but readable; 3: Readable and quickly forgettable, 4: Good, enjoyable 5: Buy it, keep it and never let it go.)