Part XXVII: Updated List for Asian Men/White Women Literature part 4
In Part II Asian Male and White Female Novels, I have given some examples of some of the particular in depth Asian male novels and white female novels that I have read and enjoyed. It has been three years since I published that article and a lot more books with that particular topic were published and discovered. I have thought long and hard on how to separate the books I have discovered and ones I have talked about. I think I will do five AM/WF novels/short stories per article. This article will contain five novels, few where, unfortunately, AM/WF couples either play a small or secondary role or where attraction isn't reciprocated or where they seem to be more of jerk (I'm lookin at you, '89 Walls!) Here are the novels:
*SPOILERS ALERT*
'89 Walls by Katie Pierson
Love and Miss Communication-Elyssa Friedland
The Tiger Queens-Stephanie Thornton
Dog Crazy-Meg Donohue
The Queen of Sparta-T.S. Chaudhry
'89 Walls by Katie Pierson
Summary:
College is not in the cards for Seth. He spends his minimum wage on groceries and fakes happiness to distract his mom from the MS they both know will kill her. It's agony to carry around a frayed love note for a girl who's both out of his league and beneath his dignity.
Quinn's finishing high school on top. But that cynical, liberal guy in her social studies class makes her doubt her old assumptions. Challenging the rules now, though, would a) squander her last summer at home, b) antagonize her conservative dad, and c) make her a hypocrite.
Seth and Quinn's passionate new romance takes them both by surprise. They keep it a secret: it's too early to make plans and too late not to care. But it's 1989. As politics suddenly get personal, they find themselves fighting bare-fisted for their beliefs—and each other—in the clear light of day.
The Asian Hero:
Unfortunately, this is a book where the Asian hero is more of a jerk than a good guy. The Asian hero, Jason Singh is of South Asian descent and his family is wealthy and can fit into country clubs and whatnot. He is best known as someone who smokes marijuana and doesn't seem to really care about life or find the heroine's feelings as valid. I keep thinking he is supposed to be antithesis to Park from Eleanor and Park.
The White Heroine:
I'm sorry to say, but one of the choices that she makes in the book really cause me to dislike and detest her, namely abortion. I really don't want to get into any stance about it, but I really disagreeing with her choice and I wasn't really prepared for abortion to appear in the book. If I'm not mistaken, her name is Quinn Ganey, she has brown hair and probably blue or green eyes. She is described as open-minded and friendly by the white hero of the book.
The Setting:
The story takes place in Omaha Nebraska in 1989 and both are seniors in high school. (See where Eleanor and Park come in?)
About the Author:
From Pump Up Your Book Blog)
Katie Pierson freelances for local non-profits, using her background in public policy and grassroots organizing to overthrow the patriarchy one introverted step at a time. When she's not writing fiction, she returns library books, makes soup, and tries to be cooler than she really is by hip-hopping at the YMCA. She earned a Bachelor's Degree in American History from the University of Pennsylvania (where she dabbled briefly in being a College Republican) and a Master's in American History from the University of Minnesota. She grew up in Lincoln, Nebraska, and now lives with her family in a suburb of Minneapolis.

'89 Walls

is her first novel.
For More Information
For More Information
My Opinion:
I have to say that aside from the abortion issue and aside from the way that the Asian male character is handled, I think I would have liked the story because with a lot of things that they talked about, I did agree.
Love and Miss Communication-Elyssa Friedland
Summary:
This unforgettable debut novel asks us to look up from our screens and out at the world...and to imagine what life would be like with no searches, no status updates, no texts, no Tweets, no pins, and no posts
Evie Rosen has had enough. She's tired of the partners at her law firm e-mailing her at all hours of the night. The thought of another online date makes her break out in a cold sweat. She's over the clever hashtags and the endless selfies. So when her career hits a surprising roadblock and her heart is crushed by Facebook, Evie decides it's time to put down her smartphone for good. (Beats stowing it in her underwear--she's done that too!)
And that's when she discovers a fresh start for real conversations, fewer distractions, and living in the moment, even if the moments are heartbreakingly difficult. Babies are born; marriages teeter; friendships are tested. Evie just may find love and a new direction when she least expects it, but she also learns that just because you unplug your phone doesn't mean you can unplug from life.
The Asian Hero:
His name is Jake Loo and he cares deeply for his wife and is excited about having a child that he at one point devotes an entire afternoon to building a crib. He is an artistic soul and apparently has had many ventures, including Children's music, screenwritting, . He is also originally from Pittsburgh. Described by Evie as "ambiguously employed loafer" (38)
The White Heroine:
Her name is Tracy Loo and she is a teacher and also pregnant. "Evie worried it was only a matter of time before they were suburbia-bound. Tracy had an edge to her that Evie's other friends didn't have and was especially prone to eye rolling whenever Stasia discussed her father's political office or Caroline, the fourth in their quartet, mentioned an extravagant purchase...Tracy swore she'd never go to Pitt. 'You know Asian mothers-she'd welcome Jake back in the womb if he'd fit.'" (18-19)She also has reddish hair and an ivory complexion. She also works at Brighton and helps the main character get a job there,
The Setting:
The story takes place in New York and there is a great deal of focus on technology and how reliant we are on it.
About the Author:
(From TLC)

Purchase Links
About Elyssa Friedland
Elyssa Friedland attended Yale University, where she served as managing editor of the Yale Daily News. She is a graduate of Columbia Law School and subsequently worked as an associate at a major firm. Prior to law school, Elyssa wrote for several publications, including Modern Bride, New York magazine, Columbia Journalism Review, CBS MarketWatch.com, Yale Alumni Magazine, and Your Prom. She grew up in New Jersey and currently lives in New York City with her husband and three young children.
My Opinion:
In this book the AM/WF play a secondary role instead of a primary one, but I think their role is a little big, which is why I've included them on the list, at least the white heroine.
The Tiger Queens-Stephanie Thornton
Summary:
In the late twelfth century, across the sweeping Mongolian grasslands, brilliant, charismatic Temujin ascends to power, declaring himself the Great, or Genghis, Khan. But it is the women who stand beside him who ensure his triumph....
After her mother foretells an ominous future for her, gifted Borte becomes an outsider within her clan. When she seeks comfort in the arms of aristocratic traveler Jamuka, she discovers he is the blood brother of Temujin, the man who agreed to marry her and then abandoned her long before they could wed.
Temujin will return and make Borte his queen, yet it will take many women to safeguard his fragile new kingdom. Their daughter, the fierce Alaqai, will ride and shoot an arrow as well as any man. Fatima, an elegant Persian captive, will transform her desire for revenge into an unbreakable loyalty. And Sorkhokhtani, a demure widow, will position her sons to inherit the empire when it begins to fracture from within.
In a world lit by fire and ruled by the sword, the tiger queens of Genghis Khan come to depend on one another as they fight and love, scheme and sacrifice, all for the good of their family...and the greatness of the People of the Felt Walls.
The Asian Hero:
His name is Shigi and he is of Tatar descent, and is someone who is talented in languages and writing. There is thought that originally he is a nobleman's son He is the one that suggested that the Mongols will be interested in Fatima. Technically he sees Fatima as perhaps a friend or a sister rather than a possible lover. He was spared by Genghis Khan and tasked to record the history of the Golden Family,
The White Heroine:
Her name is Fatima and she is best described as elegant, loyal, someone who is used to the finer things in life, and she is also a Muslim. She comes from a wealthy background and is very educated. Throughout the years she becomes an advisor to Toregene. She also has a strong will to live and is best described as someone who has mountains in her soul.
The Setting:
This is actually the third story which takes place in Persia at first, but then takes place on the fields, and the story is from 1221 up until 1240s?
About the Author: (Summary taken from the book)
Buy the Book
About the Author
Stephanie Thornton is a writer and history teacher who has been obsessed with infamous women from ancient history since she was twelve. She lives with her husband and daughter in Alaska, where she is at work on her next novel.
"The Secret History: A Novel of Empress Theodora" and "Daughter of the Gods: A Novel of Ancient Egypt" are available from NAL/Penguin. "The Tiger Queens: The Women of Genghis Khan" will hit the shelves November 4, 2014, followed by "The Conqueror's Wife: A Novel of Alexander the Great" in November 2015.
My Opinion:
Although there might have been a possibility of AM/WF unfortunately its not entirely realized because the Asian hero was attracted to someone else and not to the white heroine. However, a well-done story of the importance of bonds and relationships between women.
Dog Crazy-Meg Donohue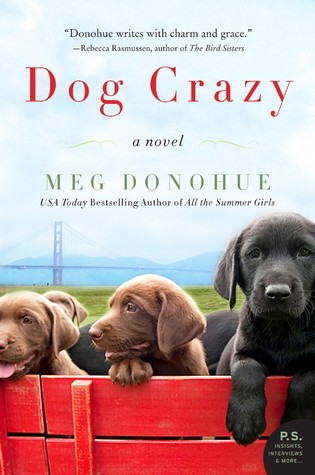 Summary:
The USA Today bestselling author of How to Eat a Cupcake and All the Summer Girls returns with an unforgettably poignant and funny tale of love and loss, confronting our fears, and moving on . . . with the help of a poodle, a mutt, and a Basset retriever named Seymour
As a pet bereavement counselor, Maggie Brennan uses a combination of empathy, insight, and humor to help patients cope with the anguish of losing their beloved four-legged friends. Though she has a gift for guiding others through difficult situations, Maggie has major troubles of her own that threaten the success of her counseling practice and her volunteer work with a dog rescue organization.
Everything changes when a distraught woman shows up at Maggie's office and claims that her dog has been stolen. Searching the streets of San Francisco for the missing pooch, Maggie finds herself entangled in a mystery that forces her to finally face her biggest fear-and to open her heart to new love.
Packed with deep emotion and charming surprises, Dog Crazy is a bighearted and entertaining story that skillfully captures the bonds of love, the pain of separation, and the power of our dogs to heal us.
The Asian Hero:
His name is Huan and he is described as smaller than Terrence with shaggy black hair and a sweet youthful face. He is Anya's neighbor, has a crush on her and is too shy to ask her out directly; he is about Anya's age. Growing up he never had pets because his father claimed he is allergic to them, although Huan suspects that its because his father worried pets would distract him from school. He is also described as polite and earnest and good-natured.
The White Heroine:
Her name is Anya and she isn't more than twenty years of age when she meets the heroine. She has auburn hair and green eyes, and is determined to find her missing dog, Billy. She is also described as someone who elevates between mood swings. In the book she becomes a talented photographer and has three brothers, Henry, Terrence and Clive.
The Setting:
The story takes place in modern times in California in San Francisco to be exact.
About the Author: (Summary taken from the book)

Purchase Links
About Meg Donohue
Meg Donohue is the author of How to Eat a Cupcake. She has an MFA in creative writing from Columbia University and a BA in comparative literature from Dartmouth College. Born and raised in Philadelphia, she now lives in San Francisco with her husband, their two young daughters, and their dog.
My Opinion:
A little like in Love and Miss Communication, the couple plays a secondary role to the story, but unlike in that book, there is more involvement between the white heroine and the Asian hero with the main character in the book.
The Queen of Sparta-T.S. Chaudhry
Summary:
Xerxes, the Great King of Persia invades Greece in 480 B.C. at the head of over a million barbarians. 300 Spartan's led by King Leonidas die heroically blocking the Persian advance at the pass of Thermopylae. The Persians are poised to conquer all of Greece.
The only one standing in their way is a woman – Gorgo, Queen of Sparta. Though history has relegated her role to an interested bystander, what if she played a central part at the heart of the Greek resistance to the Persian invasion. What if she kept her true role a secret in order to play it more effectively? What if she was hiding other secrets too – dark secrets of murder and vengeance? What if the only person who truly appreciated her genius was an enemy prisoner? What if after their victory, the Greeks start to turn on each other? What if, eventually, Gorgo has to choose between the security of Sparta and safety of her son? And what if the only one who could find a way out is the same prisoner whom she has vowed to kill?
The Asian Hero:
His name is Sherzada and he is a Prince of Indus River Valley, and has ancestry of Scyths and the locals and physically he has dark skin and dark eyes and is described as taller than an average Spartan, and swarthy and is someone from Sindhic tribal group (a Saka). Personality wise, he is resourceful, intelligent, brave and fearless as well as loyal and chivalric.
The White Heroine:
Her name is Gorgo and she has dark hair as well as hazel-green eyes and already has a boy from a previous marriage. She is intelligent, diplomatic, open-minded and very protective of those she loves and cares about. She is a different woman from normal Spartan women and is seen as a light among the Spartans.
The Setting:
Majority of the book is set in Greece, in Sparta to be exact from 480 PME to 477 PME, and it deals with wars, politics, and presents Queen Gorgo as a fearless and brave woman who has an understated role in politics
About the Author: (Summary taken from the book)
T. S. Chaudhry was born in Karachi, Pakistan. He earned a bachelor's degree from Cornell University, a master's degree from Harvard University, and a PhD from the University of Cambridge. Formerly a Pakistani diplomat, Chaudhry currently works for the United Nations on peace and security issues in Africa.

THE QUEEN OF SPARTA

is Chaudhry's first novel. He came up with the idea to write a story about Queen Gorgo being the architect of the Greek resistance against the Persian invasion while reading Herodotus for his A-Level examination in England several decades ago. "As a lover of history, or a 'history-buff,' I have always enjoyed reading both fiction and nonfiction about this period."

Chaudhry is currently working on a "prequel" to THE QUEEN OF SPARTA based on events leading up to the Battle of Marathon, called Fennel Field.
For More Information
My Opinion:
This is probably a really unique story, and it takes place in the past. To be honest, I'm not sure if the hero of the book, Sherzada, might be considered traditionally Asian, but he is from Indus River Valley, and is described as dark skinned. I remember really enjoying the book and seeing a very unique pairing of Queen Gorgo and Prince Sherzada.
Want more of Asian male/white female literature? Check out links for three other lists I've done!
List One:
List Two:
List Three:
Be patient, more is coming!