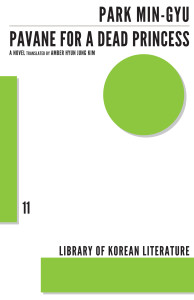 Name of Book:
Juguen Wangnyeoreul Wihan Pavane
/
Pavane for a Dead Princess
Author:
Park Min-Gyu (Translated by Amber Hyun Jung Kim)
ISBN:
978 1 62897 066 1
Publisher:
Dalkey Archive
Type of book:
South Korea, 1985-1986, relationship, beauty, aestheticism, low wage jobs, wealth, poverty, love, modern music, art, work, philosophy of life without answers
Year it was published:
2014 (originally 2009)
Summary:
Following the relationship between a man with matinee-idol good looks and "the ugliest woman of the century," Pavane for a Dead Princess examines how contemporary Korea's obsession with beauty is its popular culture's newest canker.
Both celebrated and condemned for his attacks upon what he perceives as the humorlessness of contemporary Korean literature, author Park Min-gyu uses a myriad of references to Western music and art, and the addition of a 'writer's cut,' to suggest various ways of looking at his country's extreme aesthetic fetishization.
Characters:
Unfortunately I don't recall the hero's name nor the heroine's name. Main hero is the son of a father that eventually becomes a movie star and dumps his mother for someone else, as well as marrying the beauty. He is easily likable by Yohan, loyal and seems to look beyond appearance into the person's soul. Heroine has low self-esteem due to her looks (was even told that she was ugly when she smiled or when she wore nail polish) and just tries to get through the day. She suffers from low self-esteem and doesn't really believe that good things are meant to happen to her. Yohan has his own parental issues, namely with his mother, and he is best described as extremely cynical, intelligent but someone who lacks the drive to do something with himself.
Theme:
Beauty and ugliness are more than appearance.
Plot:
97 percent of the story is told in first person narrative from the man's point of view, while the last three percent are from Yohan and the ugly girl. The story begins in mid-action, at the end of 1986, but then goes back to 1985 when the hero first met the ugly girl and Yohan and how the three of them became very good friends, and perhaps a little something more. I enjoyed how the songs, lyrics and Yohan's cynic philosophy were integrated into the pages, really causing the reader to think about what they are talking about. The ending and alternate endings are interesting and really add dimension to the story as to what is true and what might be fiction, which is left for the reader to decide.
Author Information:
(From back of the book)
Park Min-Gyu
He was born in South Korea in 1968 and published his first book, Legend of the World's Superheroes, in 2003, for which he was awarded the Munhakdongne New Wrtier Award. He has since published four more novels, and numerous short stories.
Opinion:
Where do I start on why I loved this book? I think I'll start off with the fact that relationship between the male hero and female heroine isn't conventional; male hero has movie star looks while the female heroine is, unfortunately, best described as ugly. Yet he falls in love with her, and she didn't even get plastic surgery or anything to attract his attention. One of my pet peeves is when the heroine gets plastic surgery, meets a guy, but, I notice, she never goes back to her previous appearance. (Yes, I hated 200 lb Beauty, a Korean movie about a woman who got plastic surgery.) I also loved the three main characters, and enjoyed the way philosophy and music of 1985-1986 played a big role in the characters' lives. There are a lot of unexpected twists, which might be a bit melodramatic, but it didn't really deter my enjoyment. And ending, is, well, something one won't forget for a very long time.
This book was given to me by Dalkey Archive for an honest review
5 out of 5
(0: Stay away unless a masochist 1: Good for insomnia 2: Horrible but readable; 3: Readable and quickly forgettable, 4: Good, enjoyable 5: Buy it, keep it and never let it go.)