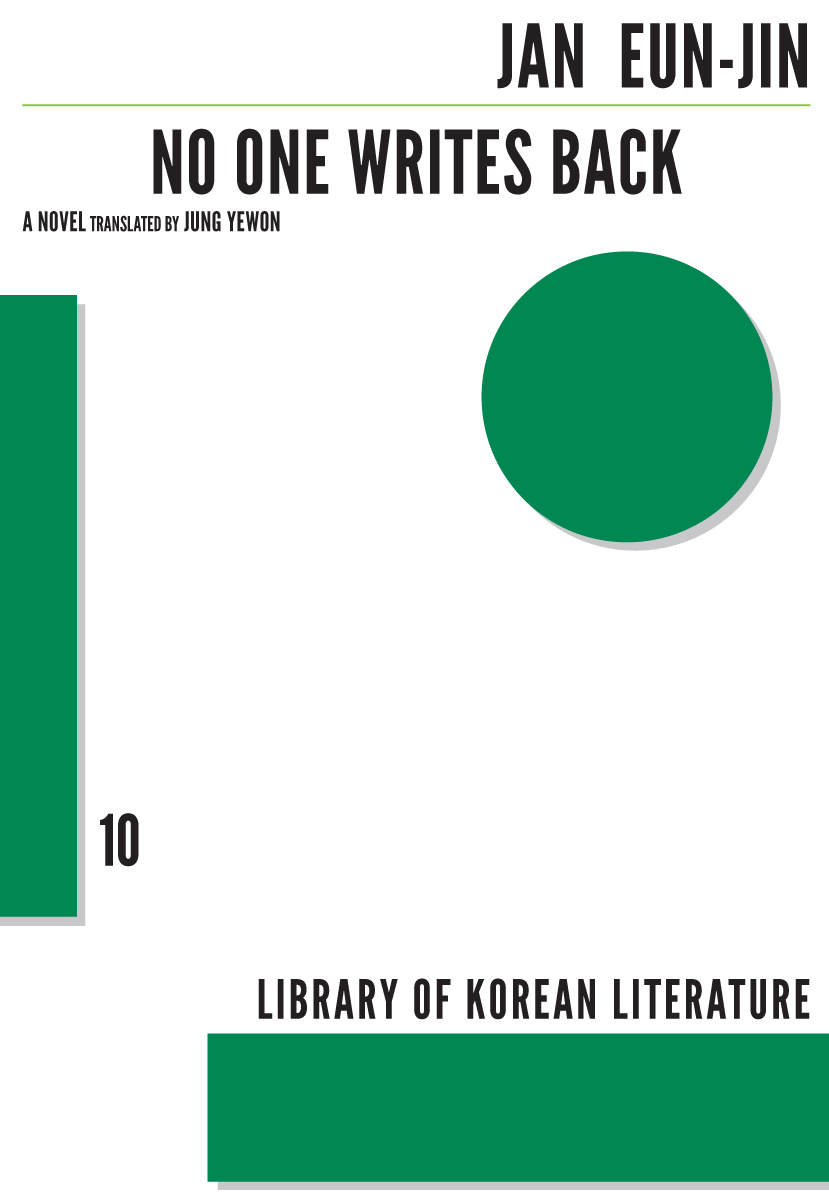 Name of Book:
No One Writes Back (Original title: Amudop'yonji haji ant'a)
Author:
Jang Eun-Jin, translated by Jung Yewon
ISBN:
978-1-56478-960-0
Publisher:
Dalkey Archive
Type of book:
South Korea, travels, vagabond existence, communication, family issues, blind dog, friendships, relationships, letter writing, old fashioned phone calling, unresolved issues, 2009, quirky characters, fascinating hotels.
Year it was published:
2009 (translated in 2013)
Summary:
Communication–or the lack thereof–is the subject of this sly update of the picaresque. No One Writes Back is the story of a young man who leaves home with only his blind dog, an MP3 player, and a book, traveling aimlessly for three years, from motel to motel, meeting people on the road. Rather than learn the names of his fellow travelers–or invent nicknames for them–he assigns them numbers. There's 239, for example, who once dreamed of being a poet, but who now only reads her poems to a friend in a coma; there's 109, who rides trains endlessly because of a broken heart; and 32, who's already decided to commit suicide. The narrator writes letters to these men and women in the hope that he can console them in their various miseries, as well as keep a record of his own experiences: "A letter is like a journal entry for me, except that it gets sent to other people." No one writes back, of course, but that doesn't mean that there isn't some hope that one of them will, someday . . .
Characters:
Main characters include Jihun, the narrator of the story who seems to have run away from the recent family troubles he is having. He is about 32 years of age, stutters a lot which is a big deal, I'm surprised to find out (Not really sure why, but maybe its because I grew up in a family that also has two stutters so I'm used to it?) He also assigns numbers to people instead of using their names and is old fashioned when it comes to communication, which means that despite the fact that its 2009 in the story, Jihun doesn't use a cell phone and doesn't use a PC. Instead its old fashioned paper and pencil for him, which, I guess, has something to do with his background. He is planning on finishing his vagabond life as soon as one of the people he meets replies back to him. The dog, Wajo, is an old dog and has a history of being a guide-dog for Jihun's grandfather. Jihun's grandfather, shortly before he dies, asks Jihun to take care of Wajo. Along with being extremely loyal, Wajo also happens to be blind, although he doesn't forget the role he had and many times Jihun takes advantage of it when he wants Wajo with him. 751 is a woman and an author of the book titled The Toothpaste and the Soap. She also leads a vagabond existence, traveling and trying to sell her novels to customers and she also continues to write. She is loyal as well and although she doesn't seem to have any ties, she becomes attached to the narrator and Wajo throughout the travels.
Theme:
Journeys end in ways no one expects
Plot:
The story is written in first person narrative from Jihun's point of view, and yes, it is chronological. A lot of the story focuses on the travels and the people that Jihun meets, who happen to be unique characters of their own. The author though, barely gives these characters limelight and they seem to be mentioned in passing, aside from 751 who decides to tackle along with the narrator, the dog, the narrator, and the friend that the narrator constantly calls to check the mail. If one is thinking that this is a travelogue novel where the reader will experience various cities, then I'm sorry to say its not.
Author Information:
Jang Eun-Jin
She was born in Gwangju, Korea, in 1976, and graduated from Department of Geography at Cheonnam National University. She won the Joongang Daily New Writers Award for her debut, and has since published four novels and a collection of short stories.
Jung Yewon
She was born in Seoul, and has moved to U.S at the age of 12. She received a BA in English from Brigham Young University, and an MA from the Graduate School of Interpretation and Translation at Hankuk University.
Opinion:
This was another one of the odd but highly likable books that I recently discovered and enjoyed a lot. I'll be honest in saying that I didn't really understand the issues the author tries to tackle within these pages, but it is a good story without a 100 percent definite message. What I understood is that the messages that were attempted to be tackled included communication, or lack of, and also old fashioned way communication versus new way communication.I also think that the story is more coming-of-age and self-discovery. But I didn't really understand how that theme or message were being tackled or what the author was trying to say by having the male character be the way he is. Smaller messages included dealing with isolation, trying to build relationships, and loyalty, which I understood far more than the communication theme. If the reader is a dog lover, then yes, there is a dog that acts as a character and which the male narrator, Jihun, takes care of.
This book was given to me by Dalkey Archive for an honest review
4 out of 5
(0: Stay away unless a masochist 1: Good for insomnia 2: Horrible but readable; 3: Readable and quickly forgettable, 4: Good, enjoyable 5: Buy it, keep it and never let it go.)