G709 Book Review of the rivals of Versailles by sally Christie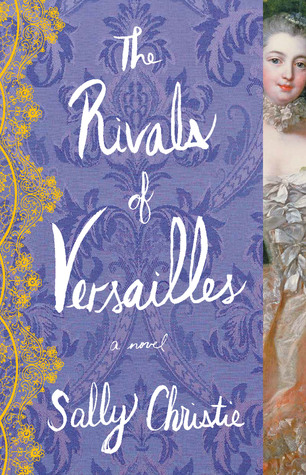 Name of Book:
The Rivals of Versailles
Author:
Sally Christie
ISBN:
978-1-5011-0299-8
Publisher:
Atria Books
Part of a Series:
The Mistresses of Versailles
Type of book:
France, Rivals, Jeannette-Antoinette Poisson, Marquise de Pompadour, history, 1730s, 1741-1764, Versailles, romance, Marie-Anne Nesle, Morphise, Rosalie, friendship, depravities
Year it was published:
2016
Summary:
And you thought sisters were a thing to fear. In this compelling follow-up to Sally Christie's clever and absorbing debut, we meet none other than the Marquise de Pompadour, one of the greatest beauties of her generation and the first bourgeois mistress ever to grace the hallowed halls of Versailles.
I write this before her blood is even cold. She is dead, suddenly, from a high fever. The King is inconsolable, but the way is now clear.
The way is now clear.
The year is 1745. Marie-Anne, the youngest of the infamous Nesle sisters and King Louis XV's most beloved mistress, is gone, making room for the next Royal Favorite.
Enter Jeanne-Antoinette Poisson, a stunningly beautiful girl from the middle classes. Fifteen years prior, a fortune teller had mapped out young Jeanne's destiny: she would become the lover of a king and the most powerful woman in the land. Eventually connections, luck, and a little scheming pave her way to Versailles and into the King's arms.
All too soon, conniving politicians and hopeful beauties seek to replace the bourgeois interloper with a more suitable mistress. As Jeanne, now the Marquise de Pompadour, takes on her many rivals - including a lustful lady-in-waiting; a precocious fourteen-year-old prostitute, and even a cousin of the notorious Nesle sisters - she helps the king give himself over to a life of luxury and depravity. Around them, war rages, discontent grows, and France inches ever closer to the Revolution.
Enigmatic beauty, social climber, actress, trendsetter, patron of the arts, spendthrift, whoremonger, friend, lover, foe. History books may say many things about the famous Marquise de Pompadour, but one thing is clear: for almost twenty years, she ruled France and the King's heart.
Told in Christie's witty and modern style, this second book in the Mistresses of Versailles trilogy will delight and entrance fans as it once again brings to life the world of eighteenth century Versailles in all its pride, pestilence and glory.
Characters:
Main characters include Jeanne-Antoinette Poisson who is Marquise de Pompadour. At the start of the book, she is someone who is youthful, passionate, determined and somewhat naive. She is also extremely loyal and dedicated as well as crafty and resourceful. Throughout the book, from the time she becomes a mistress to the end, we watch her grow and survive tragedies as well as continuing trying to maintain her fragile hold on Louis XV's heart and the power she has over the court. King Louis XV is much changed since The Sisters of Versailles. Gone is the shy uncertain King who doesn't want to cheat on his foreign wife, and instead here is someone who seems to be into hedonistic pleasures and is going deeper and deeper into depravities the reader would rather not know. One of the other mistresses is a very lustful young woman who sacrifices her chances for pleasures untold while another is a beautiful young girl from low classes who is naive and becomes captured in a dangerous web while the last is the airhead cousin with a beloved name who tries to use this name to capture the king's heart.
Theme:
High pedigree and breeding have little meaning to surviving in court
Plot:
The story is in first person narrative from Jeanne-Antoinette's point of view as well as the other three mistresses which include a lustful cousin to a friend, an extremely young girl involved in debauchery and an airhead with a famous name from the first book. In Sisters of Versailles the author manages to shock the readers with the story as well as the ignorance of life outside, and in this book, the shock still continues. I honestly couldn't believe some of the things I've read in there, such as valuing beauty over human life, and something much, much more distraughtful which I'd rather not divulge, as well as how lightly fidelity and marriage are taken seriously and how much power the king has. The voices are all individualized and ones that are not to be forgotten.
Author Information:
(From HFVBT)
About the Author
I'm a life-long history buff – and I mean life-long. One of the first adult books I read was Antonia Fraser's masterful Mary, Queen of Scots. Wow! That book just blew my little ten year old mind: something about the way it brought the past right back to life, made it live again on the page. I date my obsession with history to that time, but I'd been writing ("writing") ever since I was able to hold a pencil.
If you'd told my 12-year old self that I'd not be a writer when I grew up, I would have laughed you out of the tree house. With a few detours along the way, to work overseas in consulting and development, as well as to go to business school, I've finally come full circle to where I think I should be.
I currently live in Toronto and when I'm not writing, I'm playing lots of tennis; doing random historical research (old census records are my favorite); playing Scrabble, and squirrel-watching (the room where I write has French doors leading out to a deck; I avidly follow, and feed, a scruffy gang).
Opinion:
I really don't have words to describe how astounded I am by this novel. Seriously, its an honor to read and review this masterpiece. I had the good luck of reading The Sisters of Versailles which involves King Louis XV and his first four mistresses, the Nesle sisters. In The Sisters of Versailles we meet the hesistant and troubled King Louis XV and see him through the eyes of Louise, Pauline, Diane and Marie-Anne as he starts going through a very rapid transformation. Continuing off, The Rivals of Versailles focuses a lot more on Jeanne Poisson, otherwise known as Marquise de Pompadour and in an odd way, the author seems to ask the readers a question; why did Marquise de Pompadour manage to survive living in Versailles while other mistresses tried but failed to stay in Versailles? Big majority of the story is from Marquise de Pompadour, and in this story she is extremely likable and a sympathetic character. Other women that become Louis XV's mistresses had memorable but brief lives at Versailles. I also feel as if the author is trying to rub it in with the other women character because other women weren't portrayed favorably and I imagine that it really must have burned when a middle class girl had a long life at Versailles while their lives were like supernovas; powerful, bright but too brief.
This is for Historical Fiction Virtual Book Tours
Blog Tour Schedule
5 out of 5
(0: Stay away unless a masochist 1: Good for insomnia 2: Horrible but readable; 3: Readable and quickly forgettable, 4: Good, enjoyable 5: Buy it, keep it and never let it go.)