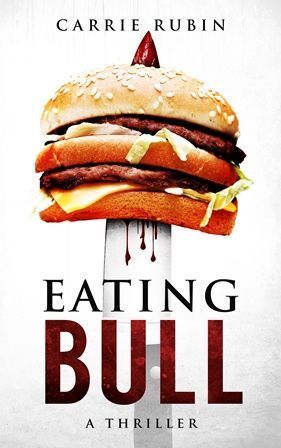 Name of Book:
Eating Bull
Author:
Carrie Rubin
ISBN:
978-1-940419-10-7
Publisher:
Science Thriller Media
Type of book:
obesity, responsibility, modern times, murder, thriller, abandonment, bullying, suing, justice, poking fun, health issues, food, relationship to food
Year it was published:
2015
Summary:
Jeremy, a lonely and obese teenager, shoots into the limelight when a headstrong public health nurse persuades him to sue the food industry. Tossed into a storm of media buzz and bullying, the teen draws the attention of a serial killer who's targeting the obese. Soon the boy, the nurse, and their loved ones take center stage in a delusional man's drama.
In this novel of suspense, Eating Bull explores the real-life issues of bullying, fat-shaming, and the food industry's role in obesity.
"A solid thriller that manages to infuse one boy's coming-of-age with a whole lot of murder."--Kirkus Reviews
**Content Advisory: This book contains some profanity and brief scenes of graphic violence.
Characters:
Main characters include Jeremy, Darwin and Sue. Jeremy is a young teenager who happens to be extremely obese. He is dealing with issues of abandonment, lack of friends due to his weight, being bullied both at home and at school and also is dealing with health issues from the said weight. Sue is a nurse who meets Jeremy and is nicknamed the Warrior Woman because she constantly battles for justice no matter what consequences may befall on her. She works as sort of a social worker if I'm not mistaken and wants to make her voice heard. Darwin is possibly an un-diagnosed schizophrenic murderer who targets and kills obese people and who is also dealing with abandonment, hatred and shame. (I'm embarrassed to admit that Darwin reminds me of Family Guy episode where Lois's brother kills fat people, although the novel is far more serious than that cartoon episode.)
Theme:
Obesity is a complex issue
Plot:
The story is in third person narrative from Jeremy's, Darwin's and Sue's points of view. I really enjoyed the writing style and the way the author set up the plot, keeping me guessing as to whom Darwin is. At first I thought Darwin was someone unrelated, but then towards the end the clues started to add up that he is closer than one thinks. Along with exploration of how someone becomes obese as well as various relationships that characters have to food and a mix of murderer being obsessed with killing obese individuals, one is in for a roller coaster ride.
Author Information:
(From back of the book)
Carrie Rubin is a physician with a master's degree in public health. She lives in Ohio with her husband and two sons. Other works include The Seneca Scourge (2012)
Opinion:
This will definitely go into one of my favorite and memorable reads. It's very chilling and seems to come at a perfect time for society and its facing obesity. What I find interesting is the relationship that the author plays between food, weight and our obsession with it, for there are people that completely depend on food to satisfy themselves, then there are people who are obsessed with staying away from food. Unfortunately as well, the battle to find balance between overfeeding and underfeeding begins the minute a baby is out of the womb and latched on to a bottle, as I'm finding out now, for I, the grandma and baby's father worry about over feeding him yet at the same time we don't want to underfeed him. Ultimately, what is the right answer? Who should take responsibility for obesity and the impact it has on society? While towards the end the book seems a little clear-cut and tied up neatly, the way someone will look at obesity and responsibility after the read will never be the same.
This is for Claire McKinney Public Relations
4 out of 5
(0: Stay away unless a masochist 1: Good for insomnia 2: Horrible but readable; 3: Readable and quickly forgettable, 4: Good, enjoyable 5: Buy it, keep it and never let it go.)