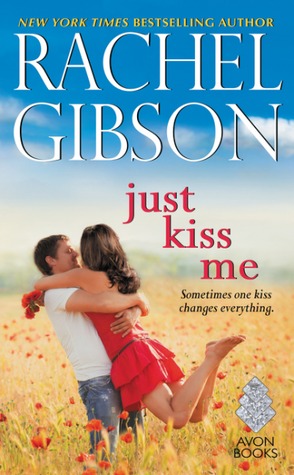 Name of Book:
Just kiss Me
Author:
Rachel Gibson
ISBN:
978-0-06-224742-1
Publisher:
Avon Impulse
Type of book:
2000s, South Carolina Charleston, romance, love, Hollywood, secrets, south, past, friends, siblings
Year it was published:
2016
Summary:
New York Times bestselling author Rachel Gibson returns with this dazzling love story filled with sizzle, sass, and just a bit of southern charm...
"Hello, Ms. Vivian . . . it's been a long time."
And with those words, Vivian Leigh Rochet nearly melted. It's been years since she last saw Harrison Whitley-Shuler. She was a teenager scrubbing houses for a living. He was the gorgeous son of rich parents, not fit for the likes of her.
Vivian had vowed to get out of Charleston, become a big Hollywood star, and stick it to the snooty girls who made her cry.
She got what she wanted—and more—but why does her glamorous life seem so trivial?
Harrison got out too . . . making it all the way to Wall Street, until a heart attack forced him to trade in his cufflinks for a good set of hand tools.
Making furniture soothes his soul, but escaping the Whitley-Shuler heritage is nearly impossible. And now he's come face-to-face with the one who got away. He's not looking for love. He's not even looking for sex . . . so why is resisting her the hardest thing he's ever done?
Characters:
Main characters include Vivien Leigh Rochet who grew up poor and had only mother for company. Vivien is best described as vivacious, determined, spicy and daring. At the same time she tends to be sensitive to some people's feelings and also wants to rise to the top. Henry Whitley Schuler is Vivien's love interest and has a lot of secrets that he keeps. He cares deeply for Vivien and has a strained relationship with his mother and also has a younger brother Spencer. Spencer is Henry's younger brother and he is best described as lustful and dutiful to his mother.
Theme:
Love comes when one least expects it
Plot:
The story is in third person narrative from Vivien's and Henry's point of view. While the story does slow down as if it has all the time in the world, its not overwhelming and can be considered a quick summer read. What I found were the story's strengths were the women, namely the mantis and the heroine, and I also liked diary snippets from Vivien which gave me snippets of her life prior to the story, I also liked the references to '90s of the things I grew up with.
Author Information:
(From goodreads)
Rachel was born in Boise, Idaho, USA. Her father worked for a telephone company, and her mother was a house wife. Idaho has the largest population of Basques outside of the Basque lands of Spain. She grew up with kids with last names like Uberuaga, Berriochoa, and Egisquiza, but years later she discovered the rest of the country didn't really know much about the Basque culture or history.
Rachel's storytelling career began at the age of sixteen when she ran her Chevy Vega into the side of a hill, retrieved the bumper and broken glass from the ground, and drove to her High School parking lot. With the help of her friend, she strategically scattered the broken pieces and told her parents she'd been the victim of a hit and run. They believed her, and she's been telling stories ever since. Afther the High School, she married with Mr. Gibson. At 25, she already had three children. One day, her TV broke, and she read her first romance, The Spanish Rose by Shirlee Busbee, she loved it, and six years later she published her first novel. With the publication in 1998 of New York Times and USA Today bestselling author Rachel Gibson's first book, Simply Irresistible, readers discovered one of contemporary romance's freshest voices. Her debut novel was named one of the ten favorite books by the membership of the Romance Writers of America, and other of her three novels were named among the Top Ten Favorite Books of the Year by Romance Writers of America. Her fourth novel, True Confessions, was awarded the RITA, Romance Writers of America's highest honor of excellence. Some of Rachel's other awards and achievements include The Golden Heart Award, the National Reader's Choice, Amazon Editor's Top Pick, Publisher Weekly's Quill nominee and Borders bestselling romantic comedy for 2006. Rachel continues living in her native Boise, and when not writing, Rachel can be found boating on Payette Lake with Mr. Gibson, shopping for shoes, or forcing her love on an ungrateful cat.
Opinion:
Imagine finding a read that's reminiscent of a long and lazy summer where the story is not overwhelming when it comes to details and filled with a bit of southern charm as well as hierarchies within the south, which means rubbing elbows with fictional blue-blood families. Think I'm imagining that such a read exists? I'm not. It's my first Rachel Gibson novel and I enjoyed what I read when it comes to the writing and charm although I do feel that there are some minor quirks that need to be worked out; one being the hero's name is different in ARC than in final copy, another is that it kind of bugged me that the main character is a size 0 when it comes to clothes. (guess I hoped for a curvaceous heroine, and its first time that I come upon specific dress sizes in a romance novel.) and I also feel as if the chemistry between the heroine and the hero wasn't as passionate as I hoped.
This is for Pump Up Your Book
4 out of 5
(0: Stay away unless a masochist 1: Good for insomnia 2: Horrible but readable; 3: Readable and quickly forgettable, 4: Good, enjoyable 5: Buy it, keep it and never let it go.)