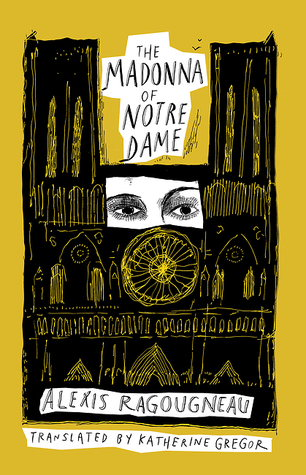 Name of Book:
The Madonna of Notre Dame
Author:
Alexis Ragougneau
ISBN:
978-1-939931-3-99
Publisher:
New Vessel Press
Type of book:
Mystery, murder, Paris France, 2000s, church, Notre Dame, secrets, identities, motives, behind-the-scenes, The Feast of Assumption
Year it was published:
2016 (original 2014)
Summary:
Fifty thousand believers and photo-hungry tourists jam into Notre Dame Cathedral on August 15 to celebrate the Feast of the Assumption. The next morning, a stunningly beautiful young woman clothed all in white kneels at prayer in a cathedral side chapel. But when an American tourist accidentally bumps against her, her body collapses. She has been murdered: the autopsy reveals disturbing details. Police investigators and priests search for the killer as they discover other truths about guilt and redemption in this soaring Paris refuge for the lost, the damned, and the saved. The suspect is a disturbed young man obsessed with the Virgin Mary who spends his days hallucinating in front of a Madonna. But someone else knows the true killer of the white-clad daughter of Algerian immigrants. This thrilling novel illuminates shadowy corners of the world's most famous cathedral, shedding light on good and evil with suspense, compassion and wry humor.
Characters:
Main characters include Father Kern who has a mysterious illness and is determined to help solve the crime of the murdered woman. Father Kern will also do whatever he can and seems to notice things before others do. There is also Gombrowicz who is one of the investigators, I believe, and for some odd reason I keep thinking of him as a lackey of sorts. There is also the suspect, a young man who seems to have an odd obsession with Madonna the Virgin and Madonna the Whore. The victim is a young woman who is best described as incredibly beautiful, provocative, and has a mysterious identity and past.
Theme:
There is more to the story than meets the eye
Plot:
The story is in third person narrative mainly from Father Kern's point of view, although few other characters such as Gombrowicz and Claire Kauffman are also given a glimpse of. The start of the story is very intriguing, especially the nature of the crime because it's not something a reader might have been introduced to before, but I do feel that towards the end some details get lost and I often felt uncertain on how they got to a specific point in the story.
Author Information:
(From back of the book)
Alexis Ragougneau is a playwright, and The Madonna of Notre Dame is his first novel. He worked for several months in Notre Dame Cathedral helping monitor tourist crowds and knows well its infinite secrets and the forgotten souls who linger in its darkest corners.
Opinion:
Because I previously reviewed The 6:41 to Paris, I expected for The Madonna of Notre Dame to at least be similar to the book. I know that its different authors and translators, but I guess because same publishing company did both, I had pretty high expectations. I think if I didn't previously review the 6:41 to Paris, I would have liked it a bit more because there are behind-the-scenes when it comes to Notre Dame church as well as interesting and quirky characters. I feel that the story carried on well enough until perhaps the middle or almost towards the end when it felt rushed to me.
This is for France Book Tours
VIRTUAL BOOK TOUR SCHEDULE
Friday, September 16
Review + Giveaway at
Book Nerd
Monday, September 19
Review + Excerpt + Giveaway at
Fuonlyknew
3 out of 5
(0: Stay away unless a masochist 1: Good for insomnia 2: Horrible but readable; 3: Readable and quickly forgettable, 4: Good, enjoyable 5: Buy it, keep it and never let it go.)