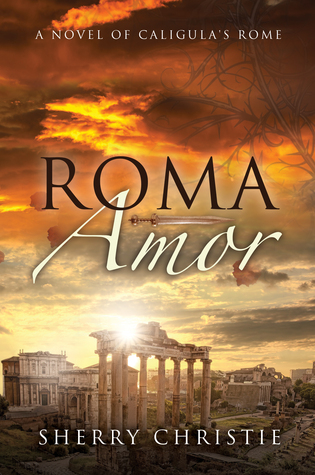 Name of Book:
Roma Amor
Author:
Sherry Christie
ISBN:
9780692596326
Publisher:
Bexley House
Type of book:
Rome, Italy, 37 ME, Caligula, politics, daily life, slavery, survival, soldier, captives, ruling, guilt, conscience, Germany
Year it was published:
2016
Summary:
How far will a father go to keep an old promise?
And how far will a son go to obey him?
Riding home from the Danube frontier, Marcus Carinna hears a voice whisper, "Your turn," as he passes his family tomb. An unseen presence also startles the Germanic priestess Aurima, whom he is bringing to Rome. But hardheaded Romans scoff at ghosts, and Marcus can't believe it's a warning from his brother, who killed himself three years earlier.
37 AD: To great acclaim, 25-year-old Caligula Caesar has become Rome's new master. No one is more pleased than Senator Titus Carinna, who helped him succeed to the throne. It's a shame the Senator's older son—Caligula's closest friend—committed suicide after being charged with treason. But that still leaves Marcus, his second son.
Headstrong and hot-tempered, Marcus would rather prove his courage by fighting Rome's enemies than take his brother's place. Yet when his father calls him home to befriend and steady the erratic Caligula, he has no choice.
Swept into a labyrinth of deceit, conspiracy, and betrayal reaching from Palatine mansions to the city's grimy, teeming streets, Marcus will uncover a secret that threatens his family, the woman he desires, even his life… and may bring chaos to the young Roman Empire.
Characters:
Main characters include Marcus Carinna, a second son of the Carinna family who recently has lost his older brother and he is trying to cope with multiple roles at once: that of being a dutiful son towards his father and following his father's desires, then trying to do Caligula's bidding, dealing with his feelings towards a captive woman as well as his brother's death and his own needs which seem to come tertiary if at all. Caligula is best described as feral yet strongly haunted by what happened to him and the life he has led. The other characters are women, Aurima, a young priestess who can see the spirit world and desires to return back to her homeland as well as Marcus's older brother's fiancee, Julia Livilla who has her own secrets, and then Marcus's twin sister who also has her own needs and desires that are unfulfilled.
Theme:
A man sometimes has little to no realization of how women and others play in politics
Plot:
The story is in first person narrative from Marcus's point of view. If one doesn't know a lot or much about the Roman empire, I imagine the reader will be quite a bit shocked by some of the casual attitudes the Romans had towards slaves, women and so forth. The author doesn't make any apologies about it, and, it seems, as if the main character, has little to no realization of the role women play in politics and whatever else. For me the excitement was towards the end.
Author Information:
(From HFVBT)
About the Author
After earning a Phi Beta Kappa creative award in college for an early draft about a nobly born charioteer, Sherry Christie spent many years of research and revision developing ROMA AMOR into the story about fathers and sons that it wanted to be. She considers it "a joy" to immerse herself in the lives of first-century Romans—and a distinct change from her day job as a professional copywriter. She lives on the coast of Maine with a native-born Viking and two cats.
For more information, please visit Sherry Christie's
website
. You can also connect with her on
Twitter
, and
Goodreads
.
Opinion:
I honestly feel as if I should go back and re-read Suetonius's Lives of Twelve Caesars, in particular the section about Caligula. I am not really sure what genre the book might fit into, because from the summary I got an impression it might be a political thriller, which it was, but I also thought from reading it sounds almost like a historical mystery, and in a way it was, as the reader and the unwilling participant Marcus Carinna are tasked with less than enviable duties of becoming Caligula's best friend as well as figuring out the identity of the mysterious man who is writing lampoons of the current Caesar. There are also issues with a captive woman from Germany that is used as a hostage, and dealing with death of an older brother. From reading the book, its highly obvious that a lot of research was done and that the author was highly comfortable with the world. I think what did seem to be the issue for me is that there was way too much going on at once and it was a bit difficult in keeping track of the plots and their eventual endings.
For HFVBT Tours
Blog Tour Schedule
4 out of 5
(0: Stay away unless a masochist 1: Good for insomnia 2: Horrible but readable; 3: Readable and quickly forgettable, 4: Good, enjoyable 5: Buy it, keep it and never let it go.)