I did mean to publish this on 27th of January to signify being another week under the new president, but then I didn't have time to do so, I'm afraid. (PS I finally got Human Acts by Han Kang!) Today, more than ever, we need compassion and understanding to those who are different than we are: why? In honor of the missed Friday, which was a Holocaust Memorial Day (In honor of the countless millions of Jews, Gypsies, gays, homosexuals and those who were different and got killed for being different), here is a poem that should remind people of the humanity we share, and how death and murder know no boundaries or immunity.
They Came For Me Poem by Martin Niemöller (1892–1984)
First they came for the Socialists, and I did not speak out—
Because I was not a Socialist.
Then they came for the Trade Unionists, and I did not speak out—
Because I was not a Trade Unionist.
Then they came for the Jews, and I did not speak out—
Because I was not a Jew.
Then they came for me—and there was no one left to speak for me.
Blast From the Past
Twenty Years After by Alexandre Dumas
Twenty Years After (1845) resumes the adventures of Alexandre Dumas' fabulous four begun in The Three Musketeers. "The Inseparables"-Athos, Porthos, Aramis and the irrepressible Gascon d'Artagnan-are once again called upon to save France from itself. This time, the paragons of honor, chivalry, and justice find themselves embroiled not only in court intrigue and royal affairs (including the Queen's illicit liaison with her first minister, Cardinal Mazarin) but also popular revolution. The novel is set during the minority of King Louis XIV; the English Revolution is about to reach its climax in the execution of Charles I-and the revolt against the French crown known as the first Fronde is coming to a head. If the politics are more complex, the personalities are as well. Twenty years have wrought their changes on the impetuous young musketeers. They are older, grayer, and wiser, and each has more to lose.
Why Its Diverse:
The author himself is of French and Haitian ancenstry and from the paintings he appeared to be more Haitian than French. Unfortunately race and/or diversity tends to be substituted for 'white' when it comes to people who made it, thus its important to highlight that a writer of color made it big.
The Vicomte de Bragelonne by Alexandre Dumas
It is May 1660 and the fate of nations is at stake. Mazarin plots, Louis XIV is in love, and Raoul de Bragelonne, son of Athos, is intent on serving France and winning the heart of Louise de la Valliere. D'Artagnan, meanwhile is perplexed by a mysterious stranger, and soon he learns that his old comrades already have great projects in hand. Athos seeks the restoration of Charles II, while Aramis, with Porthos in tow, has a secret plan involving a masked stranger and the fortification of the island of Belle-Ile. D'Artagnan finds a thread leading him to the French court, the banks of the Tyne, the beaches of Holland, and the dunes of Brittany.
The Vicomte de Bragelonne opens an epic adventure which continues with Louise de la Valliere and reaches its climax in the man in the iron mask.
Why Its Diverse:
I realize that I will appear to be redundant, but because this is the book right after the previous book and since I'm going from oldest diverse review to newest diverse review, this is the book that came after Twenty Years After. The author himself is of French and Haitian ancenstry and from the paintings he appeared to be more Haitian than French. Unfortunately race and/or diversity tends to be substituted for 'white' when it comes to people who made it, thus its important to highlight that a writer of color made it big.
The Joy Luck Club by Amy Tan
Four mothers, four daughters, four families whose histories shift with the four winds depending on who's "saying" the stories. In 1949 four Chinese women, recent immigrants to San Francisco, begin meeting to eat dim sum, play mahjong, and talk. United in shared unspeakable loss and hope, they call themselves the Joy Luck Club. Rather than sink into tragedy, they choose to gather to raise their spirits and money. "To despair was to wish back for something already lost. Or to prolong what was already unbearable." Forty years later the stories and history continue.
With wit and sensitivity, Amy Tan examines the sometimes painful, often tender, and always deep connection between mothers and daughters. As each woman reveals her secrets, trying to unravel the truth about her life, the strings become more tangled, more entwined. Mothers boast or despair over daughters, and daughters roll their eyes even as they feel the inextricable tightening of their matriarchal ties. Tan is an astute storyteller, enticing readers to immerse themselves into these lives of complexity and mystery.
Why Its Diverse:
This book was written by a Chinese-American woman. I have seen both the movie and read the book quite a few times. As a teenager I admit that this is something I liked, but when I learned and realized that Chinese men have extremely negative portrayal in the book, my liking for the book considerably went down. Some may find it unimportant or, "what is the big deal?" negative portrayals affect how women perceive men, and in this case, I am sad that my son will be perceived like one of the "evil" characters in the book.
What I Am Reading Now:
Human Acts by Han Kang
From the internationally bestselling author of The Vegetarian, a rare and astonishing (The Observer) portrait of political unrest and the universal struggle for justice.
In the midst of a violent student uprising in South Korea, a young boy named Dong-ho is shockingly killed.
The story of this tragic episode unfolds in a sequence of interconnected chapters as the victims and the bereaved encounter suppression, denial, and the echoing agony of the massacre. From Dong-ho's best friend who meets his own fateful end; to an editor struggling against censorship; to a prisoner and a factory worker, each suffering from traumatic memories; and to Dong-ho's own grief-stricken mother; and through their collective heartbreak and acts of hope is the tale of a brutalized people in search of a voice.
An award-winning, controversial bestseller, Human Acts is a timeless, pointillist portrait of an historic event with reverberations still being felt today, by turns tracing the harsh reality of oppression and the resounding, extraordinary poetry of humanity.
Pages: 141 out of 218
Future Reviews:
Where'd You Go Bernadette by Maria Semple
(The story features Bee who has heart issues, and her mother who can be seen either as extremely quirky or someone grappling with mental illnesses)
Bernadette Fox is notorious. To her Microsoft-guru husband, she's a fearlessly opinionated partner; to fellow private-school mothers in Seattle, she's a disgrace; to design mavens, she's a revolutionary architect, and to 15-year-old Bee, she is a best friend and, simply, Mom.
Then Bernadette disappears. It began when Bee aced her report card and claimed her promised reward: a family trip to Antarctica. But Bernadette's intensifying allergy to Seattle—and people in general—has made her so agoraphobic that a virtual assistant in India now runs her most basic errands. A trip to the end of the earth is problematic.
To find her mother, Bee compiles email messages, official documents, secret correspondence—creating a compulsively readable and touching novel about misplaced genius and a mother and daughter's role in an absurd world.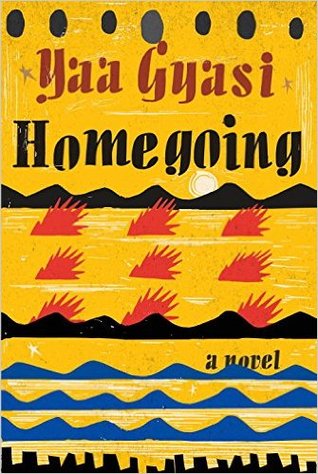 Homegoing by Yaa Gyasi
The unforgettable New York Times best seller begins with the story of two half-sisters, separated by forces beyond their control: one sold into slavery, the other married to a British slaver. Written with tremendous sweep and power, Homegoing traces the generations of family who follow, as their destinies lead them through two continents and three hundred years of history, each life indeliably drawn, as the legacy of slavery is fully revealed in light of the present day.
Effia and Esi are born into different villages in eighteenth-century Ghana. Effia is married off to an Englishman and lives in comfort in the palatial rooms of Cape Coast Castle. Unbeknownst to Effia, her sister, Esi, is imprisoned beneath her in the castle's dungeons, sold with thousands of others into the Gold Coast's booming slave trade, and shipped off to America, where her children and grandchildren will be raised in slavery. One thread of Homegoing follows Effia's descendants through centuries of warfare in Ghana, as the Fante and Asante nations wrestle with the slave trade and British colonization. The other thread follows Esi and her children into America. From the plantations of the South to the Civil War and the Great Migration, from the coal mines of Pratt City, Alabama, to the jazz clubs and dope houses of twentieth-century Harlem, right up through the present day, Homegoing makes history visceral, and captures, with singular and stunning immediacy, how the memory of captivity came to be inscribed in the soul of a nation.
~penguinrandomhouse.com
The Mortifications by Derek Palacio
Derek Palacio's stunning, mythic novel marks the arrival of a fresh voice and a new chapter in the history of 21st century Cuban-American literature.
In 1980, a rural Cuban family is torn apart during the Mariel Boatlift. Uxbal Encarnación—father, husband, political insurgent—refuses to leave behind the revolutionary ideals and lush tomato farms of his sun-soaked homeland. His wife Soledad takes young Isabel and Ulises hostage and flees with them to America, leaving behind Uxbal for the promise of a better life. But instead of settling with fellow Cuban immigrants in Miami's familiar heat, Soledad pushes further north into the stark, wintry landscape of Hartford, Connecticut. There, in the long shadow of their estranged patriarch, now just a distant memory, the exiled mother and her children begin a process of growth and transformation.
Each struggles and flourishes in their own way: Isabel, spiritually hungry and desperate for higher purpose, finds herself tethered to death and the dying in uncanny ways. Ulises is bookish and awkwardly tall, like his father, whose memory haunts and shapes the boy's thoughts and desires. Presiding over them both is Soledad. Once consumed by her love for her husband, she begins a tempestuous new relationship with a Dutch tobacco farmer. But just as the Encarnacións begin to cultivate their strange new way of life, Cuba calls them back. Uxbal is alive, and waiting.
Breathtaking, soulful, and profound, The Mortifications is an intoxicating family saga and a timely, urgent expression of longing for one's true homeland.
Future Reads:
One Half From the East-Nadia Hashimi
Internationally bestselling author Nadia Hashimi's first novel for young readers is an emotional, beautiful, and riveting coming-of-age journey to modern-day Afghanistan that explores life as a bacha posh—a preteen girl dressed as a boy.
Obayda's family is in need of some good fortune.
Her father lost one of his legs in a bomb explosion, forcing the family to move from their home city of Kabul to a small village, where life is very different and Obayda's father almost never leaves his room.
One day, Obayda's aunt has an idea to bring the family luck—dress Obayda, the youngest of her sisters, as a boy, a bacha posh.
Now Obayda is Obayd.
Life in this in-between place is confusing, but once Obayda meets another bacha posh, everything changes. The two of them can explore the village on their own, climbing trees, playing sports, and more.
But their transformation won't last forever—unless the two best friends can figure out a way to make it stick and make their newfound freedoms endure.