I've been blogging and reviewing books since 2010, which is almost 7 years (7 years in May of this year) and even prior to this I've been reading and giving attention to books that are not seen as mainstream. Since the next 416 weeks (possibly 8 years) will be bumpy for many people, I will highlight and post some of my reviews from the past starting in 2010 as well as a book I'm reading currently and possibly some books I will review in the future.
Blast from the Past:
The Plot Against the Pom-Pom Queen, written by Ellen Leroe, is a tale about a sixteen year old girl named Kelsey who is being bullied by a popular girl named Taffy Foster. Kelsey decides to concoct revenge against her. When that fails, however, she is introduced to the world of MMG-Magic Male Grabbers, which give her arsenal to become as popular as Taffy.
Why its diverse: If I remember right, Kelsey is dealing with a lot of body insecurity and she doesn't describe herself as a thin woman. The book does use movie stars and whatnot from '80s, but its a minor complaint when thinking of the lessons I learned from reading the story.
Debut novelist Takashi Matsuoka burst onto the secen with CLOUD OF SPARROWS, a magnificent historical novel that takes us beyond the epic tradition of James Clavell's Shogun. Set in 1861 Japan, CLOUD OF SPARROWS weaves a tale of passion and adventure, as a small group of American missionaries arrives on the shores of Edo Bay-and enters the strange, exotic world of Genji, Lord of Akaoka. What happens next, between the handsome young nobleman and the two Americans, sets the stage for a remarkable adventure. For as this unlikely band embarks on a journey through a landscape bristling with danger, East and West, flesh and spirit, past and future, collide in an ovel of astounding power and grace…
Why its diverse: It is written by a Japanese-American male and although it takes place around the same time as James Clavell novels, I loved this one because the characters are depicted as human beings, and also there are elements of some fantasy mixed in which the author doesn't go into until the second book. (Unfortunately no third book...)
The Three Musketeers is one of the most celebrated historical romances ever written. It tells of the adventures of the hot-headed young Gascon, d'Artagnan, and his three companions Athos, Porthos and Aramis.
In their gallant defence of the Queen of France, Anne of Austria, they pit their wits and their swords against the machinations and men of that archetypal eminence grise, Cardinal Richlieu, as he schemes to hold on to his political influence over King Louis XIII.
Their swashbuckling adventures take them from the high fashion of the French Court to the murkier aspects of espionage on either side of the Channel in a thrilling story of seventeenth century international intrigue.
Why It's Diverse: The author has Haitian and French ancestry through his father, and if the paintings are to be believed, he appears to have more Haitian ancestry than French.
What I am Reading Now:
The Mortifications by Derek Palacio
Derek Palacio's stunning, mythic novel marks the arrival of a fresh voice and a new chapter in the history of 21st century Cuban-American literature.
In 1980, a rural Cuban family is torn apart during the Mariel Boatlift. Uxbal Encarnación—father, husband, political insurgent—refuses to leave behind the revolutionary ideals and lush tomato farms of his sun-soaked homeland. His wife Soledad takes young Isabel and Ulises hostage and flees with them to America, leaving behind Uxbal for the promise of a better life. But instead of settling with fellow Cuban immigrants in Miami's familiar heat, Soledad pushes further north into the stark, wintry landscape of Hartford, Connecticut. There, in the long shadow of their estranged patriarch, now just a distant memory, the exiled mother and her children begin a process of growth and transformation.
Each struggles and flourishes in their own way: Isabel, spiritually hungry and desperate for higher purpose, finds herself tethered to death and the dying in uncanny ways. Ulises is bookish and awkwardly tall, like his father, whose memory haunts and shapes the boy's thoughts and desires. Presiding over them both is Soledad. Once consumed by her love for her husband, she begins a tempestuous new relationship with a Dutch tobacco farmer. But just as the Encarnacións begin to cultivate their strange new way of life, Cuba calls them back. Uxbal is alive, and waiting.
Breathtaking, soulful, and profound, The Mortifications is an intoxicating family saga and a timely, urgent expression of longing for one's true homeland.
Progress: 85 out of 308
Future Reviews:
Where'd You Go Bernadette by Maria Semple (The story features Bee who has heart issues, and her mother who can be seen either as extremely quirky or someone grappling with mental illnesses)
Bernadette Fox is notorious. To her Microsoft-guru husband, she's a fearlessly opinionated partner; to fellow private-school mothers in Seattle, she's a disgrace; to design mavens, she's a revolutionary architect, and to 15-year-old Bee, she is a best friend and, simply, Mom.
Then Bernadette disappears. It began when Bee aced her report card and claimed her promised reward: a family trip to Antarctica. But Bernadette's intensifying allergy to Seattle—and people in general—has made her so agoraphobic that a virtual assistant in India now runs her most basic errands. A trip to the end of the earth is problematic.
To find her mother, Bee compiles email messages, official documents, secret correspondence—creating a compulsively readable and touching novel about misplaced genius and a mother and daughter's role in an absurd world.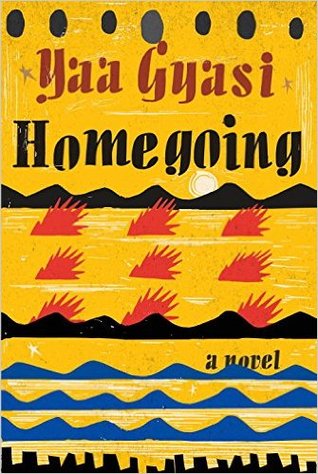 Homegoing by Yaa Gyasi
The unforgettable New York Times best seller begins with the story of two half-sisters, separated by forces beyond their control: one sold into slavery, the other married to a British slaver. Written with tremendous sweep and power, Homegoing traces the generations of family who follow, as their destinies lead them through two continents and three hundred years of history, each life indeliably drawn, as the legacy of slavery is fully revealed in light of the present day.
Effia and Esi are born into different villages in eighteenth-century Ghana. Effia is married off to an Englishman and lives in comfort in the palatial rooms of Cape Coast Castle. Unbeknownst to Effia, her sister, Esi, is imprisoned beneath her in the castle's dungeons, sold with thousands of others into the Gold Coast's booming slave trade, and shipped off to America, where her children and grandchildren will be raised in slavery. One thread of Homegoing follows Effia's descendants through centuries of warfare in Ghana, as the Fante and Asante nations wrestle with the slave trade and British colonization. The other thread follows Esi and her children into America. From the plantations of the South to the Civil War and the Great Migration, from the coal mines of Pratt City, Alabama, to the jazz clubs and dope houses of twentieth-century Harlem, right up through the present day, Homegoing makes history visceral, and captures, with singular and stunning immediacy, how the memory of captivity came to be inscribed in the soul of a nation.
~penguinrandomhouse.com
#BabyLove My Toddler Life-Corine Dehghanpisheh (This book for children features a mom and a son that appear to be Hispanic and is a cute story :) )
In #BabyLove: My Toddler Life, a new children's picture book by Corine Dehghanpisheh, a curious toddler loves to play… especially with his mommy's smartphone!
When Mommy finds him using her phone without permission, it's the perfect teaching moment. Mommy reminds her little one that what matters most in life is time together filled with love and attention.
Her simple reminder: Put down our phones.
#BabyLove: My Toddler Life is the second book in Corine's #BabyLove Book Series. The first book in the series, #BabyLove: My Social Life, won the Next Generation Indie Book Award for Picture Books 0-5.