As I check out the links on Naz's blog, I begin to realize the complications of diversity, and how broad the term it really is. For example, it's generally accepted that those who are not of European descent are considered 'diverse' as well as those who belong to LGBTQIAP community be they European or not. But then what about people who are European but are not of Catholic or Protestant descent? What of the people who immigrated here from somewhere outside the Western Europe but are of Eastern European descent? Would they be seen as diverse or not? Eastern Europe and Western Europe are different in terms of history, traditions and even in the way Christianity celebrated; the Western Europe being Catholic while Eastern Europe is Eastern Orthodox Christianity. (Heck, there are two different calendars for the Catholic and Eastern Orthodox Christianity.)
What I realized is that we are all fighting for the same goal: to be seen and recognized as an individual rather than a stereotype or caricature of our background.
This post will also feature the first Allies of Diversity post which will promote authors of European/American descent.
Blast from the Past: Diverse Authors
The Golden Days by Cao Xueqin (Chapters 1-26 out of 120)
The story of the stone (c.1760), also known as The Dream of the Red Chamber, is one of the greatest novels of Chinese literature. THe first part of the story, The Golden Days, begins the tale of Bao-yu, a gentle young boy who prefers girls to Confucian studies, and his two cousins: Bao-Chai, his parents' choice of a wife for him, and the ethereal beauty Dai-yu. Through the changing fortunes of the Jia family, this rich, magical work sets worldly events-love affairs, sibling rivalries, political intrigues, even murder-within the context of the Buddhist understanding that earthly existence is an illusion and karma determines the shape of our lives.
Why It's Diverse:
In total, China has about four great classics; the Three Kingdoms, the Water Margin, Journey to the West, and Dream of the Red Chamber (Hong Lou Meng). This is a famous Chinese classic in other words, and it pays careful and particular attention to the way women lived and functioned in China of 1700s, a hundred or more years before the Opium Wars and Europeans came over.
The Tao of Sex by Jade Lee
Discovering that she's a Tantric sex goddess has given Tracy Williams a new mantra: more, more, more...And the source of that divine revelation is her hunky Chinese-born erotica instructor. When her yin bumps up against his yang, she's literally communing with heaven. Now that he has awoken her inner power, Nathan Gao is obligated to bring Tracy to the sacred Hong Kong temple for a life of training and devotion. No matter how much he wants her for himself. But when he makes her choose-sex or love-is he ready for the consequences?
Why It's Diverse: The author is half Chinese/half American, Chinese on her mother's side, and American on her father's side. This is also a more erotic story and it's sort of a followup to her famous Tigress Sextet.
Alone in exotic Chungking, beautiful foreign correspondent Stephanie Ryder is warned to keep silent about the atrocities she witnesses in the city's teeming slums. Defying a brutal Kuomintang officer, she is swept to an electrifying first meeting with Dr. Jen Yong, a handsome, dedicated and compassionate Chinese surgeon. For Yong, a sexual liaison with an American woman could mean a death sentence. For Stephanie, an affair with an Asian man would cause an irreparable breach with her Texas millionaire father. But just when danger threatens to separate them forever, their passion bursts into flame…and carries them on a fabulous romantic journey from the stormy depths of fear and desire, to the moving affirmation that enduring love is truly a many-splendored thing.
Why It's Diverse: The author is half Chinese and half European, Chinese on her father's side and Belgium from her mother's side. This book also acted as my very first introduction into the possibility of Asian male/white female relationships and it's also a book where I could literally see myself for hte first time in the story. It's rich in recent Chinese history, and the husband, Jen En-Yong is portrayed as an actual human being rather than a stereotype or a caricature. In fact, both whites and Asians are portrayed in a positive manner.
Blast from the Past: Allies of Diversity
North China Lover by Marguerite Duras
Hailed in France as "an incomparable pleasure," Marguerite Duras's newest novel is a fascinating retelling of the dramatic experiences of her adolescence that have shaped her work. Far more daring and truthful than any book she has written before, it emphasizes the realities of her youth in Indochina nad reveals much that her earlier works concealed. An instant number-one bestseller in France, The North CHina Lover both shocks and entrances its readers. Initially written as notes toward a film-script for The Lover, the book has the grainy, filmic qualties of a documentary. For all who admired Duras's previous work, here is an exciting and unexpected reading of her past-a work the French critics called a return to "the Duras of the great books and the great days."
What Diversity it has:
While technically the author is French, she might be considered a minority of sorts in Vietnam. This story is semi-autobiographical about when she takes up with a Chinese lover, and its a companion book to The Lover by the same author (Yes, the infamous movie with Jane March and Tony Leung Ka-fai) What I did appreciate is the picture of the Vietnam that she paints.
Chenxi and the Foreigner by Sally Rippin
When Anna travels to Shanghai to study traditional Chinese painting, she's determined to immerse herself in the local culture- unlike her businessman father, who sticks to a community of Westerners. As an innocent new arrival, Anna spends time with Chenxi, the good-looking and aloof classmate who is her student guide, and is soon forced to recognize that it's much harder to escape being a wai guo ren- a foreigner- than she expected. WHen she unwittingly draws the attention of officials to Chenxi and his radical artist friends, she must face the terrible price of her actions. A deeply felt love story filled with raw emotion, cultural collisions, and memorable characters, Chenxi and the Foreigner offers an unrestrained look at the limits on freedom in the repressive atmosphere of 1980s China.
What Diversity it has: I liked that the character of Anna felt very human in mistakes she made while living in China, and I also liked learning a bit about China of late 1980s.
Future Reviews: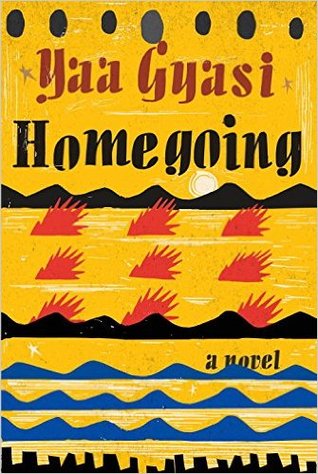 Homegoing by Yaa Gyasi
The unforgettable New York Times best seller begins with the story of two half-sisters, separated by forces beyond their control: one sold into slavery, the other married to a British slaver. Written with tremendous sweep and power, Homegoing traces the generations of family who follow, as their destinies lead them through two continents and three hundred years of history, each life indeliably drawn, as the legacy of slavery is fully revealed in light of the present day.
Effia and Esi are born into different villages in eighteenth-century Ghana. Effia is married off to an Englishman and lives in comfort in the palatial rooms of Cape Coast Castle. Unbeknownst to Effia, her sister, Esi, is imprisoned beneath her in the castle's dungeons, sold with thousands of others into the Gold Coast's booming slave trade, and shipped off to America, where her children and grandchildren will be raised in slavery. One thread of Homegoing follows Effia's descendants through centuries of warfare in Ghana, as the Fante and Asante nations wrestle with the slave trade and British colonization. The other thread follows Esi and her children into America. From the plantations of the South to the Civil War and the Great Migration, from the coal mines of Pratt City, Alabama, to the jazz clubs and dope houses of twentieth-century Harlem, right up through the present day, Homegoing makes history visceral, and captures, with singular and stunning immediacy, how the memory of captivity came to be inscribed in the soul of a nation.
The Most Dangerous Thing by Leanne Lieberman (The main character in the book suffers from depression as well as anxiety, and from what I can see she deals with her problems in a responsible way rather than something unrealistic)
Sixteen-year-old Sydney hates to talk (or even think) about sex. She's also fighting a secret battle against depression, and she's sure she'll never have a boyfriend. When her classmate Paul starts texting and sending her nature photos, she is caught off guard by his interest. Always uncomfortable with any talk about sex, Sydney is shocked when her extroverted sister, Abby, announces that she is going to put on The Vagina Monologues at school. Despite her discomfort, Sydney starts to reexamine her relationship with her body, and with Paul. But her depression worsens, and with the help of her friends, her family, a therapist and some medication, she grapples with what she calls the most dangerous thing about sex: female desire.
One Half from the East by Nadia Hashimi
Internationally bestselling author Nadia Hashimi's first novel for young readers is an emotional, beautiful, and riveting coming-of-age journey to modern-day Afghanistan that explores life as a bacha posh—a preteen girl dressed as a boy.
Obayda's family is in need of some good fortune.
Her father lost one of his legs in a bomb explosion, forcing the family to move from their home city of Kabul to a small village, where life is very different and Obayda's father almost never leaves his room.
One day, Obayda's aunt has an idea to bring the family luck—dress Obayda, the youngest of her sisters, as a boy, a bacha posh.
Now Obayda is Obayd.
Life in this in-between place is confusing, but once Obayda meets another bacha posh, everything changes. The two of them can explore the village on their own, climbing trees, playing sports, and more.
But their transformation won't last forever—unless the two best friends can figure out a way to make it stick and make their newfound freedoms endure.
5 Books I am planning on tackling this year:
The Republic of Užupis by Haïlji, Bruce Fulton (Translator), Ju-Chan Fulton (Translator)
Uzupis (on the other side of the river) is, in reality, a neighborhood in Lithuania's capital city of Vilnius, which took the peculiar step of declaring itself an independent republic in 1997. In this novel, however, it is the lost homeland of a middle-aged man named Hal, who lands in Lithuania hoping to travel back to the town of his birth in order to bury his father's ashes there -- in a place that might not really exist. In a literary tradition dominated by social realism, The Republic of Uzupis is a unique work of melancholy, Murakami-esque whimsy.
Pachinko by Min Jin Lee
A new tour de force from the bestselling author of Free Food for Millionaires, for readers of The Kite Runner and Cutting for Stone.
Pachinko follows one Korean family through the generations, beginning in early 1900s Korea with Sunja, the prized daughter of a poor yet proud family, whose unplanned pregnancy threatens to shame them all. Deserted by her lover, Sunja is saved when a young tubercular minister offers to marry and bring her to Japan.
So begins a sweeping saga of an exceptional family in exile from its homeland and caught in the indifferent arc of history. Through desperate struggles and hard-won triumphs, its members are bound together by deep roots as they face enduring questions of faith, family, and identity.
Free Food for Millionaires by Min Jin Lee
Casey Han's four years at Princeton gave her many things, "But no job and a number of bad habits." Casey's parents, who live in Queens, are Korean immigrants working in a dry cleaner, desperately trying to hold on to their culture and their identity. Their daughter, on the other hand, has entered into rarified American society via scholarships. But after graduation, Casey sees the reality of having expensive habits without the means to sustain them. As she navigates Manhattan, we see her life and the lives around her, culminating in a portrait of New York City and its world of haves and have-nots. FREE FOOD FOR MILLIONAIRES offers up a fresh exploration of the complex layers we inhabit both in society and within ourselves. Inspired by 19th century novels such as Vanity Fair and Middlemarch, Min Jin Lee examines maintaining one's identity within changing communities in what is her remarkably assured debut.
When the Great Depression hits, Florence Fein leaves Brooklyn College for what appears to be a plum job in Moscow—and the promise of love and independence. But once in Russia, she quickly becomes entangled in a country she can't escape. Many years later, Florence's son, Julian, will make the opposite journey, immigrating back to the United States. His work in the oil industry takes him on frequent visits to Moscow, and when he learns that Florence's KGB file has been opened, he arranges a business trip to uncover the truth about his mother, and to convince his son, Lenny, who is trying to make his fortune in the new Russia, to return home. What he discovers is both chilling and heartbreaking: an untold story of what happened to a generation of Americans abandoned by their country.
The Patriots is a riveting evocation of the Cold War years, told with brilliant insight and extraordinary skill. Alternating between Florence's and Julian's perspectives, it is at once a mother-son story and a tale of two countries bound in a dialectic dance; a love story and a spy story; both a grand, old-fashioned epic and a contemporary novel of ideas. Through the history of one family moving back and forth between continents over three generations, The Patriots is a poignant tale of the power of love, the rewards and risks of friendship, and the secrets parents and children keep from one another.
The Tale of Genji by Murasaki Shikibu, Royall Tyler (Translator) (Tale of Genji has four different translations: that of Arthur Waley, Edward Seidensticker, Royall Tyler and Dennis Washburne. I have read Seidensticker numerous times, thus I am planning on reading Tyler version)
Written in the eleventh century, this portrait of courtly life in medieval Japan is widely celebrated as the world's first novel. The Tale of Genji is a very long romance, running to fifty-four chapters and describing the court life of Heian Japan, from the tenth century into the eleventh.