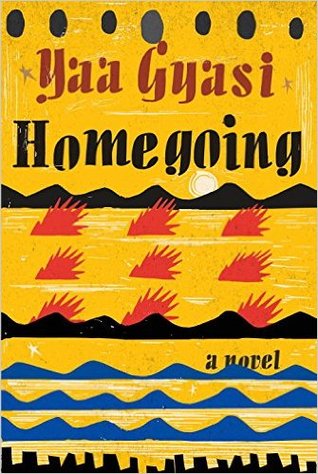 General Information:
Name of Book:
Homegoing
ISBN:
978-1-101-94713-5
Publisher:
Knopf Publisher
Year it was published:
2016
Summary:
The unforgettable New York Times best seller begins with the story of two half-sisters, separated by forces beyond their control: one sold into slavery, the other married to a British slaver. Written with tremendous sweep and power, Homegoing traces the generations of family who follow, as their destinies lead them through two continents and three hundred years of history, each life indeliably drawn, as the legacy of slavery is fully revealed in light of the present day.
Effia and Esi are born into different villages in eighteenth-century Ghana. Effia is married off to an Englishman and lives in comfort in the palatial rooms of Cape Coast Castle. Unbeknownst to Effia, her sister, Esi, is imprisoned beneath her in the castle's dungeons, sold with thousands of others into the Gold Coast's booming slave trade, and shipped off to America, where her children and grandchildren will be raised in slavery. One thread of Homegoing follows Effia's descendants through centuries of warfare in Ghana, as the Fante and Asante nations wrestle with the slave trade and British colonization. The other thread follows Esi and her children into America. From the plantations of the South to the Civil War and the Great Migration, from the coal mines of Pratt City, Alabama, to the jazz clubs and dope houses of twentieth-century Harlem, right up through the present day, Homegoing makes history visceral, and captures, with singular and stunning immediacy, how the memory of captivity came to be inscribed in the soul of a nation.
Author:
Yaa Gyasi
About the Author:
Yaa Gyasi was born in Ghana and raised in Huntsville, Alabama. She holds a BA in English from Stanford University and an MFA from the Iowa Writers' Workshop, where she held a Dean's Graduate Research Fellowship. She lives in Berkeley, California
1. Effia
One Sentence Summary:
The story starts in late 18th century, in 1700s in Africa when a fire destroyed Effia's father's yams and continues on through Effia's early life, the author presenting a village of Africans as well as their first encounters with European men who begin dealing with slaves. Effia's mother, Baaba, is negative towards her daughter and gets her to marry a European slave trader instead of an African chief as Effia desired. The short story ends with Effia finding out a secret about herself and becoming pregnant with Quey.
2. Esi
One Sentence Summary:
Esi, Effia's half sister begins her story in a dungeon in a castle where Effia lived and narrates her happy life with her family and mother as well as learning revealing information about one of her parents and the story ends with Esi being shipped to America.
3. Quey
One Sentence Summary:
Quey is Effia's only son and he reflects and talks about what it was like for him to be half African and half European as well as the friendship he has developed with Cudjo which seems to border on love and friendship he has with his uncle.
4. Ness
One Sentence Summary:
Ness is Esi's daughter, and already whatever connection Esi has had to her homeland had broken in this story. Ness barely recalls her mother, only that she is serious and refused to speak of her life, and that she is named Maame after her grandmother. Ness recalls her own life, including her forced marriage to another African male as well as the tragedy that happened when she and her husband planned on running away.
5. James
One sentence summary:
James, Quey's son, goes to a funeral for a king with his family and meets up with a woman named Akosua for whom he will do anything to have, including giving up his own family and no longer being a slave-trader.
6. Kojo
One sentence summary:
Ness's son Kojo seems to be living in semi-happiness in Fell's Point Maryland, but at the same time the threat of being captured and being a slave is real, especially with a passage of a certain bill that threatens the future of his family.
7. Abena
One sentence summary:
She is James' and Akosua's only child and knows almost nothing of her father's past, except that the past seems to be punishing her and the family. She also desires to be with Ohene, a man that also wants to be with her but simply cannot until the circumstances force her to abandon her lover and family.
8. H
One sentence summary:
First of all yes, that is the character's real name. Here once more the tenuous connection made through centuries breaks and it ends up that H knows next to nothing about his family origins. H is imprisoned and is forced to be a coal miner, but at the same time he tries to rise above himself and to unite people.
9. Akua
One Sentence Summary:
Akua is Abena's daughter and often dreams of fire with dangerous consequences for her and her children. Story moves on to almost 20th century.
10. Willie
One Sentence Summary:
Willie is H's daughter and the short story details her life from the time she moves to Harlem with her husband in search of a better life to the time the city took away her husband and left her with a child and few options.
11. Yaw
One Sentence Summary:
Yaw is Akua's son and he happens to be an unmarried scholar who desires to write about the history of slavery and the impact it had on Africa. He gets an assisant by name of Esther and tries to make peace with himself and his mother.
12. Sonny
One Sentence Summary:
Through decisions and circumstances Sonny is best described as someone who is jobless, been jailed repeatedly and also has numerous children through different mothers as well as addiction to drugs. I'm not sure I really understand his story or his motivations to be honest. I think it's a story that I don't really understand.
13. Marjorie
One Sentence summary:
Marjorie is Yaw's daughter and she describes her life in how she lives in Alabama with her aging parents as well as how close she is to her grandmother and the things she experiences at a high school, be it rejection from a crush or how different she feels from African Americans.
14. Marcus
One Sentence Summary:
Marcus is Sonny's son and the story is focused mostly on how he meets Marjorie and how he tries to learn about his culture and heritage by going to Africa with her as well as reflection of how he doesn't like water for one reason or another, and how she doesn't like fire.
Personal Opinion:
It's an incredibly valuable read in seeing how tragedy plays out through centuries and generations and reasons on why the connection to past and feeling part of community is important. It's amazing how the stories felt connected to one another yet at the same they could be treated as genuine short stories. I also loved the language, the setting, symbolism of fire and water, connection, and how you just wanted to keep reading without stopping, which was the case for me. I do hope that the book will be a classic and will be seen on top with J.K Rowling, as well as other authors who reached that status because it deserves to be that high. What I did find a bit disappointing was the ending because I thought the necklace story would go one way but it went another way.
Big thanks to my younger sister Natalie for the gift
5 out of 5
(0: Stay away unless a masochist 1: Good for insomnia 2: Horrible but readable; 3: Readable and quickly forgettable, 4: Good, enjoyable 5: Buy it, keep it and never let it go.)