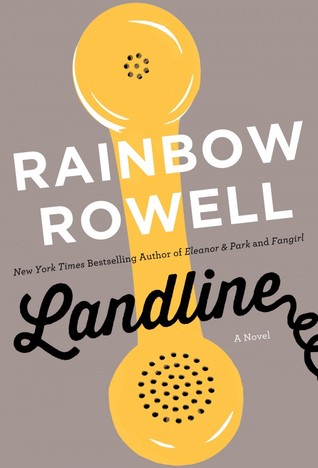 Name of Book:
Landline
Author:
Rainbow Rowell
ISBN:
978-1-250-04937-7
Publisher:
St. Martin's Press
Type of book:
2013, christmas, juvenile, marriage, "adult" family, LGBT supporting character, relationships, career, love
Year it was published:
2014
Summary:
Georgie McCool knows her marriage is in trouble; it has been in trouble for a long time. She still loves her husband, Neal, and Neal still loves her, deeply — but that almost seems beside the point now.
Maybe that was always beside the point.
Two days before they're supposed to visit Neal's family in Omaha for Christmas, Georgie tells Neal that she can't go. She's a TV writer, and something's come up on her show; she has to stay in Los Angeles. She knows that Neal will be upset with her — Neal is always a little upset with Georgie — but she doesn't expect him to pack up the kids and go home without her.
When her husband and the kids leave for the airport, Georgie wonders if she's finally done it. If she's ruined everything.
That night, Georgie discovers a way to communicate with Neal in the past. It's not time travel, not exactly, but she feels like she's been given an opportunity to fix her marriage before it starts...
Is that what she's supposed to do?
Or would Georgie and Neal be better off if their marriage never happened?
Characters:
Rainbow Rowell attempted to make the characters well rounded, but if one compares them to Eleanor and Park, she truly fails in this book. The characters are flat, annoying, and boring in my opinion. Georgie is a woman who is driven by her work at the expense of her family. Her husband Neal is aimless, directionless who also happens to be a stay-at-home husband and is raising their two daughters, Alice and Naomi "Noomi". He is from Nebraska and is not a likable character at all. There is also Seth, a red-haired writing partner to Georgie with whom he shares a chemistry of sorts and is also a playboy. Alice and Noomi are Georgie's daughters, Alice older and sensible while Noomi thinks of herself as a cat. Georgie's family, in particular her mother, stepfather who is only three years older and her sister Heather also play a role in the book, but again, not memorable or likable.
Theme:
No idea what it should have been
Plot:
The story is in third person narrative from Georgie's point of view, and it reads a bit like an annoying cheesy christmas special that I never watched. Most of the sentences are either fragmented or begin with "and" the story seems to be more suited for YA instead of adult, and also its very predictable and somehow unbelievable. At the end, I wonder, what is the point of this story? What should I have learned from it? To reconnect to the past to get on with the future? Ironically, that may not work in a lot of cases. (Do check out my review for The Half Wives by Stacia Pelletier)
Author Information:
(From goodreads)
Rainbow Rowell writes books. Sometimes she writes about adults (ATTACHMENTS and LANDLINE). Sometimes she writes about teenagers (ELEANOR & PARK and FANGIRL). But she always writes about people who talk a lot. And people who feel like they're screwing up. And people who fall in love.
Opinion:
I never thought I'd see a day when I will award 0 stars to a Rainbow Rowell novel! I've only read her Eleanor and Park, yet I've fallen in love with both the characters, the writing, and everything else. This, well, this is not Eleanor and Park. Her writing does not translate to adult novels at all, and I can't believe I'll say this, but this is a very boring and predictable novel. I am not sure where to start even, except that I cannot find a single redeeming feature of this book; the characters are unlikable and annoying, the writing style is very juvenile, the plot is a whole lot of pointless and it's not a good sign when I'm rooting more for the heroine to get with someone other than her husband, is it? There is also lack of tension in the story, and at the end, I wonder, what is the point of it all?
I won this from Goodreads Giveaway
0 out of 5
(0: Stay away unless a masochist 1: Good for insomnia 2: Horrible but readable; 3: Readable and quickly forgettable, 4: Good, enjoyable 5: Buy it, keep it and never let it go.)