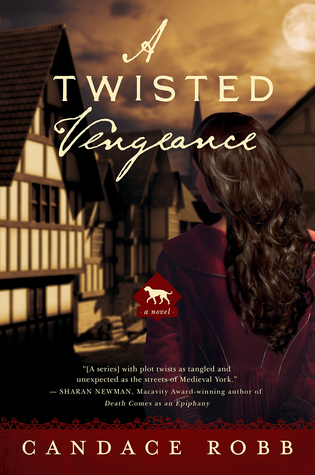 Name of Book:
A Twisted Vengeance
Author:
Candace Robb
I
SBN:
978-1-68177-452-7
Publisher:
Pegasus Crime
Part of a Series:
Kate Clifford Mysteries
Type of book:
1399, England, daily life, mother/daughter relationship, being a nun, heresy, confessor, secrets, war, knighthood, running a business, independent woman
Year it was published:
2017
Summary:
1399. York is preparing for civil war, teeming with knights and their armed retainers summoned for the city's defense. Henry of Lancaster is rumored to have landed on the northeast coast of England, not so far from York, intent on reclaiming his inheritance—an inheritance which his cousin, King Richard, has declared forfeit.
With the city unsettled and rife with rumors, Eleanor Clifford's abrupt return to York upon the mysterious death of her husband in Strasbourg is met with suspicion in the city. Her daughter Kate is determined to keep her distance, but it will not be easy—Eleanor has settled next door with the intention of establishing a house of beguines, or poor sisters. When one of the beguines is set upon in the night by an intruder, Kate knows that for the sake of her own reputation and the safety of her young wards she must investigate.
From the first, Eleanor is clearly frightened yet maintains a stubborn silence. The brutal murder of one of Eleanor's servants leads Kate to suspect that her mother's troubles have followed her from Strasbourg. Is she secretly involved in the political upheaval? When one of her wards is frightened by a too-curious stranger, Kate is desperate to draw her mother out of her silence before tragedy strikes her own household.
Characters:
Main characters include Kate Clifford, a young widow who is raising three "bastard" children (two by her husband and one by her brother) as well as Kate Clifford's mother, Kate's uncle who played a big role in the first book, the knight and Kate's helpers. Kate is best described as resourceful, highly independent, loyal to her family and someone who is not a stereotype of a wilting flower. Kate's mother is a complex character although she seems to be dependent a lot on men and often the best of her attentions go awry. She becomes a bedouin and tries to start a house where Kate lives. Kate's helpers include a former assassin who is a talented chef and is loyal to Kate and the three children. He often helps Kate with mysteries and gives her details when it comes to either thievery or assassinations. Another of Kate's helpers is a young woman, a former thief who is good at gathering information and protecting Kate. The knight and Kate seem to share chemistry of sorts as well as respect but they are wary of one another as well. The knight often wants to handle things on his own without Kate and often ends up not telling Kate vital information.
Theme:
Don't trust appearances
Plot:
The story is in third person narrative from Kate's point of view. I don't think I'd classify this as a cozy mystery, but it is a mystery anyways and focuses on a lot of threads from politics to being a woman in 1399 and to living an ordinary life. The characters are well rounded and memorable and the best thing about the story is the relationship between Kate and her mother because the reader is never quite sure of the mother's motives or reasons as to why she has made the decisions she did. I also enjoyed seeing the village life through Kate's eyes, from when she is walking her hounds to when she is with the girls and teaching them archery to when she has to care for and manage the estate. The story is detailed with historical detail, but its not over-bogged with it.
Author Information
:
(From HFVBT)
AMAZON
|
BARNES & NOBLE
|
INDIEBOUND
About the Author
Candace Robb did her graduate work in medieval literature and history, and has continued to study the period while working first as an editor of scientific publications and now for some years as a freelance writer. Candace has published 13 crime novels set in 14th century England, Wales, and Scotland. The Owen Archer series is based in York and currently extends over 10 novels beginning with THE APOTHECARY ROSE; the most recent is A VIGIL OF SPIES. The Margaret Kerr trilogy explores the early days of Scotland's struggle again England's King Edward I, and includes A TRUST BETRAYED, THE FIRE IN THE FLINT, and A CRUEL COURTSHIP.
Writing as Emma Campion, Candace has published historical novels about two fascinating women she encountered while researching the Owen Archer mysteries, Alice Perrers (THE KING'S MISTRESS) and Joan of Kent (A TRIPLE KNOT).
Candace was born in the Blue Ridge Mountains of North Carolina, grew up in Cincinnati, Ohio, and has lived most of her adult life in Seattle, Washington, which she and her husband love for its combination of natural beauty and culture. Candace enjoys walking, hiking, and gardening, and practices yoga and vipassana meditation. She travels frequently to Great Britain.
For more information, please visit Candace Robb's
website
. You can also find her on
Facebook
,
Twitter
, and
Goodreads
.
Opinion:
I really enjoyed reading this book a lot because its a straightforward mystery and the reader understands what's going on in the story. I do think it can be read as more of a stand-alone novel because although I read the first book, I didn't fully understand what was going on in the first book. This one is more compelling and also very detailed when it came to the year of 1399 and what was going on. I also enjoyed the relationship between Kate and her mother as well as Kate and her possible romantic interests. I do look forward to possible more books with Kate Clifford in them and hope I can get a chance to review them.
This is for HFVBT
Blog Tour Schedule
Monday, July 3
Kick Off at
Passages to the Past
Tuesday, July 4
Review at
Laura's Interests
(The Service of the Dead)
Review & Guest Post at
Books of All Kinds
(The Service of the Dead & A Twisted Vengeance)
Wednesday, July 5
Review at
Broken Teepee
(A Twisted Vengeance)
Thursday, July 6
Review at
Jorie Loves a Story
(The Service of the Dead)
Interview at
Dianne Ascroft's Blog
Friday, July 7
Review at
Brooke Blogs
(The Service of the Dead)
Excerpt at
What Is That Book About
Sunday, July 9
Feature at
Svetlana's Reads and Views
(The Service of the Dead)
Monday, July 10
Review at
Queen of All She Reads
(The Service of the Dead)
Review at
Ageless Pages Reviews
(The Service of the Dead)
Tuesday, July 11
Review at
Rainy Day Reviews
(The Service of the Dead)
Wednesday, July 12
Review at
100 Pages a Day
(The Service of the Dead)
Review at
History From a Woman's Perspective
(The Service of the Dead)
Thursday, July 13
Guest Post at
Let Them Read Books
Friday, July 14
Review at
The True Book Addict
(The Service of the Dead)
Review at
History From a Woman's Perspective
(A Twisted Vengeance)
Monday, July 17
Review at
Laura's Interests
(A Twisted Vengeance)
Review at
CelticLady's Reviews
(The Service of the Dead)
Tuesday, July 18
Review at
Brooke Blogs
(A Twisted Vengeance)
Guest Post at
Cafinated Reads
Wednesday, July 19
Review at
CelticLady's Reviews
(A Twisted Vengeance)
Review at
The True Book Addict
(A Twisted Vengeance)
Review at
Queen of All She Reads
(A Twisted Vengeance)
Thursday, July 20
Review at
Jorie Loves a Story
(A Twisted Vengeance)
Review at
Just One More Chapter
(The Service of the Dead)
Friday, July 21
Review at
Rainy Day Reviews
(A Twisted Vengeance)
Review at
Ageless Pages Reviews
(A Twisted Vengeance)
Review at
Svetlana's Reads and Views
(A Twisted Vengeance)
Interview at
Jorie Loves a Story
4 out of 5
(0: Stay away unless a masochist 1: Good for insomnia 2: Horrible but readable; 3: Readable and quickly forgettable, 4: Good, enjoyable 5: Buy it, keep it and never let it go.)