G892 Book Review of a very French christmas; the Greatest French Holiday Stories of all time by various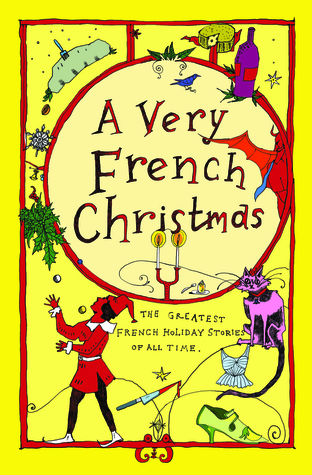 Title of the book:
a very French christmas; the Greatest French Holiday Stories of all time
Authors:
Various
Publisher:
New Vessel Press
Publishing Date:
2016
ISBN:
978-1-939931-50-4
Summary:
A continuation of the very popular Very Christmas Series from New Vessel Press, this collection brings together the best French Christmas stories of all time in an elegant and vibrant collection featuring classics by Guy de Maupassant and Alphonse Daudet, plus stories by the esteemed twentieth century author Irène Némirovsky and contemporary writers Dominique Fabre and Jean-Philippe Blondel.
With a holiday spirit conveyed through sparkling Paris streets, opulent feasts, wandering orphans, kindly monks, homesick soldiers, oysters, crayfish, ham, bonbons, flickering desire, and more than a little wine, this collection encapsulates the holiday spirit and proves that the French have mastered Christmas. This is Christmas à la française—delicious, intense and unexpected, proving that nobody does Christmas like the French.
Author Info:
Alphonse Daudet, Guy de Maupassant, Anatole France
Irène Némirovsky, Jean-Philippe Blondel, Dominique Fabre,
Paul Arene, Francois Coppee, Antoine Gustave Droz, Anatole La Braz
Follow New Vessel Press on
Twitter
| on
Facebook
Sign up
to receive their latest news and deals.
Buy the book:
on Amazon
Table of contents
THE gift- Jean Phillipe Blondel
St. Anthony and his pig- Paul Arene
THE Louis D'Or- Francois Coppee
Christmas in algiers- Anatolia le braz
THE wooden shoes of little wolff- Francois Coppee
Christmas eve- guy de maupassant
Christmas at the boarding school- Dominique Fabre
Salvette and bernadou- alphonse daudet
A miracle- guy de maupassant
I take supper with my wife- ANTOINE gustave droz
THE LOST child- Francois Coppee
THE juggler of Notre dame- Anatole France
Noel- Irene Nemirovsky
Personal Opinion:
I think I signed on to read and review the book as more of a curiosity because I wanted to know how French christmas was different than the stereotypical portrayal of American and Dickensian christmas. I also think I was curious how I would feel about the stories considering that I don't celebrate christmas (closest is New Years in Russian style which is similar to christmas style as I learned when I came to America.) What I found out is interesting: modern stories like the first one as well as one by Dominique Fabre and last one by Irene Nemirovsky for me they are far more enjoyable than the old stories by Alphonse Daudet and Francoise Coppee who apparently were hypocrites in their beliefs towards those who are not christians. Most of the 14 stories are dominated by Daudet and Coppee. I liked learning about the way French celebrate christmas and seeing something other than British or American, but I do wish that the stories would have been in more of a modern vein rather than the 1800s vein.
This is for France Book Tours
VIRTUAL BOOK TOUR SCHEDULE
Tuesday, August 8
Review + Giveaway at
The Fictional 100
Review + Giveaway at
Reading for the Stars and Moon
Wednesday, August 9
Review + Giveaway at
The French Village Diaries
Thursday, August 10
Review + Giveaway at
Readerbuzz
Friday, August 11
Review + Giveaway at
Reading To Unwind
Review + Giveaway at
Words And Peace
Monday, August 14
Review + Giveaway at
Books Are Cool
Review + Giveaway at
Locks, Hooks and Books
Review at
Svetlana's Reads and Views
3 out of 5
(0: Stay away unless a masochist 1: Good for insomnia 2: Horrible but readable; 3: Readable and quickly forgettable, 4: Good, enjoyable 5: Buy it, keep it and never let it go.)