G920 Book Review of The Sky Throne by Chris Ledbetter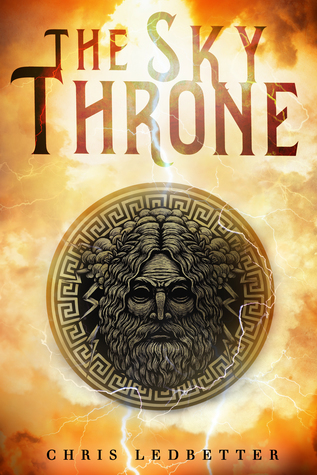 Name of Book:
The Sky Throne
Author:
Chris Ledbetter
ISBN:
978-1-945107-87-0
Publisher:
Month9Books
Type of book:
Greek myths retelling, Mount Olympus Prep, secrets, Zeus, Hera, Hades, Demeter, Poseidon, Hestia, Metis, Rhea, the Titans, pantheon, deities, gods and goddesses, high school/middle school, lessons, mischief, relationships, YA read
Year it was published:
2017
Summary:
Duality dwells at every turn, and an adolescent Zeus will learn that all too well when Hyperion attacks his family on Crete.
When the dust settles, his mother is unconscious and his best friend left for dead.
Stacking epic insult upon fatal injury, Zeus discovers the woman who raised him is not his biological mother. But to ensure her safety while she recovers, a heavy-hearted Zeus leaves her behind to seek answers at Mount Olympus Preparatory Academia.
Zeus embarks on a quest to discover who ordered the attack on his home, avenge the death of his friend, and find his birth mother. When some of his new schoolmates vanish, Zeus's quest is turned upside down, and the only way to make things right is to access the power of The Sky Throne, confront a most dangerous enemy, and take his life back.
On his way to becoming king of the Greek gods, Zeus will learn to seize power, neutralize his enemies, and fall in love.
Characters:
The story's characters are the strongest aspect of the story because they are more than just names and deeds, and they are drawn as complex human beings, which I've really enjoyed. Zeus, at first, seems to be an average boy who seems to have a penchant for getting into trouble, even getting as far as expelled from a lower school. However when he comes to Mount Olympus Prep, he is revealed as having hidden talents, being a leader, very ambitious and yes, still a mischief-maker. There is also Poseidon, or Don as he is known. Don strikes me as methodical, intense and determined especially when it comes to swimming and winning. Hades, or Shade, (I blame Disney's Hercules) while intense, is also oblivious and loyal to others. He doesn't seem to have ambitions for becoming a leader. The women, namely Hera, Hestia, Metis and Demeter were all likable and were more than just names. Hera keeps to herself but underneath she is ambitious and isn't afraid to push Zeus beyond his boundaries. Hestia, or Tia as she is known is talented in artistry and is also a chatterbox and has latest gossip about others. Demeter, or Meter, is either a vegan or vegetarian and is patient with others and good with outdoors. Metis has a troubled past and is determined to make up for her sins. Other characters like the Titans also make appearances as well.
Theme:
One never knows where they'll find themselves
Plot:
The story is in first person narrative from Zeus's point of view. The writing style is more modern, so if one is looking for something ancient and literary, then its not the right fit. At first the style was a little off-putting, but once I got past it, I found myself enjoying the beginning of how the world came to be. I also am curious how far the author is planning on taking the series and how he will handle some questionable aspects of Greek myths that will make everyone cringe. What is also neat about the story is that the goddesses are far more than just names and instead they are portrayed as individuals.
Author Information:
Buy the Book:
Amazon
~
Barnes & Noble
~
Book Depository
~
IndieBound
Quail Ridge Books
~
Amazon UK
~
Amazon.ca
~
Amazon AUS
Add to Goodreads
Meet the author:
​
Chris Ledbetter is an award-winning author of short fiction and novels for young adults. "Jason's Quest," a short story retelling of the Jason and Medea Greek myth was published in the anthology, Greek Myths Revisited. His first full-length novel, Drawn earned him two awards, Library of Clean Reads Best YA 2015 and Evernight Publishing Readers' Choice Award Best YA 2015, as well as a USATODAY "Must Read" recommendation. His second novel, Inked, concludes that duology. The Sky Throne is his newest young adult novel. The second book in the series is set to release in 2018.
He's a proud member of SCBWI (Society of Children's Book Writers and Illustrators) and a strong supporter of the Need for Diverse Books. He now writes and lives in Wilmington, NC with his family, including three cats.
Connect with the Author:
Website
~
Twitter
~
facebook
~
Pinterest
Opinion:
Can old stories be retold in a way that will appeal to younger generation? Recently the book publishing companies have been revisiting the classics of the past to see if the old tales can interest the new reader; be it Hogarth's Shakespeare series, or even a twist to children's classics like Little Women and Little House series. In the case of Greek and Roman myths, the author has done a good job in filling in the details about the gods and goddesses as well as making it likable for possible new readers to want to research more on their own. Since I'm a fan of Greek and Roman myths, I will admit honestly that I am curious how the future installments will be handled, especially in terms of relationships between gods and goddesses. For a slightly more modern spin but one that is far away, this is a worthy read.
This is for iRead Book Tours
BOOK TOUR SCHEDULE:
Sept 18 -
Library of Clean Reads
- review / author interview / giveaway
Sept 19 -
Working Mommy Journal
- review / giveaway
Sept 20 -
FLYLēF Reviews
- review
Sept 21 -
T's Stuff
- book spotlight / author interview / giveaway
Sept 22 -
Adventures Thru Wonderland
- review / author interview / giveaway
Sept 25 -
Travelling Through Words
- book spotlight / guest post / giveaway
Sept 26 -
The Autistic Gamer
- review
Sept 27 -
Leels Loves Books
- review
Sept 28 -
Bookworm for Kids
- review / author interview / giveaway
Sept 29 -
Rockin' Book Reviews
- review / guest post / giveaway
Oct 2 -
Olio by Marilyn
- review /
author interview
/ giveaway
Oct 3 -
Dab of Darkness
- book spotlight / author interview / giveaway
Oct 3 - 
The All Night Library
 - review /
guest post
Oct 4 -
A Holland Reads
- review / guest post / giveaway
Oct 5 -
A Mama's Corner of the World
- review / giveaway
Oct 6 -
Cheryl's Book Nook
- review / giveaway
Oct 9 -
Laura's Interests
- book spotlight / guest post / giveaway
Oct 9 -
Splashes Into Books
- review
Oct 10 -
411 on Books, Authors and Publishing News
- review / guest post / giveaway
Oct 11 -
The Book Drealms
- review / giveaway
Oct 12 -
JBronder Book Reviews
- review
Oct 13 -
Svetlana's Reads and Views
- review
Oct 16 -
Jorie Loves A Story
- review / guest post
Oct 17 -
Bound 4 Escape
- review / giveaway
Oct 18 -
Bookwyrming Thoughts
- review / author interview
Oct 18 -
Thoughts on Books
- review
Oct 19 -
Nighttime Reading Center
- review / giveaway
Oct 19 -
3 Partners in Shopping, Nana, Mommy, & Sissy, Too!
- book spotlight / giveaway
Oct 20 -
Ginger Mom and the Kindle Quest
- review
Oct 20 -
Books for Books
- review
4 out of 5
(0: Stay away unless a masochist 1: Good for insomnia 2: Horrible but readable; 3: Readable and quickly forgettable, 4: Good, enjoyable 5: Buy it, keep it and never let it go.)