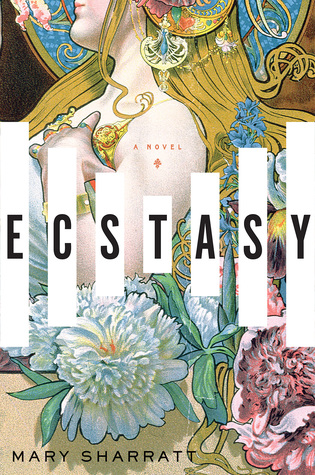 Name of Book:
Ecstasy
Author:
Mary Sharratt
ISBN:
978-0-544-80089-2
Publisher:
HMH Books
Type of book:
Gustav Mahler, Alma Schindler-Mahler, affairs, passion, ecstasy, music, composing, motherhood, marriage, older male/younger female pairing, 1899-1900s, denying talent and gifts, travel, genius husband, survival
Year it was published:
2018
Summary:
In the glittering hotbed of turn-of-the-twentieth-century Vienna, one woman's life would define and defy an era
Gustav Klimt gave Alma her first kiss. Gustav Mahler fell in love with her at first sight and proposed only a few weeks later. Bauhaus founder Walter Gropius abandoned all reason to pursue her. Poet and novelist Franz Werfel described her as "one of the very few magical women that exist." But who was this woman who brought these most eminent of men to their knees? In Ecstasy, Mary Sharratt finally gives one of the most controversial and complex women of her time the center stage.
Coming of age in the midst of a creative and cultural whirlwind, young, beautiful Alma Schindler yearns to make her mark as a composer. A brand-new era of possibility for women is dawning and she is determined to make the most of it. But Alma loses her heart to the great composer Gustav Mahler, nearly twenty years her senior. He demands that she give up her music as a condition for their marriage. Torn by her love and in awe of his genius, how will she remain true to herself and her artistic passion?
Part cautionary tale, part triumph of the feminist spirit, Ecstasy reveals the true Alma Mahler: composer, author, daughter, sister, mother, wife, lover, and muse.
Characters:
Main characters include Alma Schindler Mahler, a beautiful and talented young woman who desires to become a composer in a time when few occupations are open to women. She is best described as beautiful, passionate and loyal to those she loves, whether or not they deserve it. She is also very passionate about sharing her own gift with the world. Gustav Mahler ultimately wins Alma's heart and he is far older than she, a Jew who became a Catholic as well as someone who is talented with composing but at the same time extremely clueless when it comes to Alma's needs and human relationships. There are other characters in the story such as Alma's mother and her sister, as well as various friends that flit in and out of their lives, but I feel that they are not as visible as Alma and Gustav are.
Theme:
A woman has dozens of roles, its impossible to disobey the call of the gift
Plot:
The story is written in third person narrative from Alma's point of view and it covers 1899 up to 1910 or so, basically the time that Alma becomes (briefly) enamored with Gustav Klimt to the time her marriage to Gustav Mahler is over, and it takes place in Vienna. I knew very little about Vienna at the turn of the century and was delighted to see it prior to WWII. The story is also linear and doesn't begin in media res. (Start at the beginning.) The characters, the plot are all well done and well covered and the author has a good balance between getting a reader curious to know what will happen next to Alma and doesn't overshare on the details. For those who are new to historical fiction and are looking something different from WWII novels, but are too afraid of being overwhelmed this will be an ideal read.
Author Information:
(From HFVBT)
About the Author
MARY SHARRATT is an American writer who has lived in the Pendle region of Lancashire, England, for the past seven years. The author of the critically acclaimed novels Summit Avenue, The Real Minerva, and The Vanishing Point, Sharratt is also the co-editor of the subversive fiction anthology Bitch Lit, a celebration of female antiheroes, strong women who break all the rules.
Her novels include Summit Avenue, The Real Minera, The Vanishing Point, The Daughters of Witching Hill, Illuminations, and The Dark Lady's Mask.
For more information, please visit Mary Sharratt's
website
. You can also connect with her on
Facebook
,
Twitter
, and
Goodreads
.
Opinion:
In a good way, I don't know where to start in praising the book. I have previously read the author's other novel, THE DARK LADY'S MASK, which is about Shakespeare's muse, and her life, where the author teased between a respectable life versus affair, and life of passions versus boredom. In ECSTASY, she delves much deeper into that line, invoking and sculpting a woman so lifelike to people of today as she struggles with all too daily life of child-rearing, having a husband who is clueless to her needs and understanding her as both a person and a woman. As I found myself reading the novel, I found myself becoming enamored of Alma and of her predicament, as well as how close her predicament hits too close to home in some instances. I also admired Alma for her restraint in life and how much she has sacrificed to help her husband, Gustav, become great. As sad as it sounds, while a lot has changed when it comes to women and their position, one main aspect that hasn't changed is marriage and childbirth and how beyond that women are rarely seen as anything but mothers and wives in even today's society. Also, I love the cover and find it extremely gorgeous.
This is for HFVBT
Blog Tour Schedule
Tuesday, April 10
Review at
Broken Teepee
Wednesday, April 11
Feature at
Passages to the Past
Thursday, April 12
Review at
Bookfever
Review at
Unabridged Chick
Friday, April 13
Interview at
Unabridged Chick
Review at
View From the Birdhouse
Saturday, April 14
Review at
Clarissa Reads it All
Monday, April 16
Review at
Cup of Sensibility
Tuesday, April 17
Review at
Based on a True Story
Wednesday, April 18
Review at
Oh, for the Hook of a Book!
Thursday, April 19
Review at
History From a Woman's Perspective
Friday, April 20
Review at
Linda's Book Obsession
Sunday, April 22
Review at
Carole Rae's Random Ramblings
Monday, April 23
Review at
A Bookaholic Swede
Tuesday, April 24
Interview at
Oh, for the Hook of a Book!
Wednesday, April 25
Review at
A Literary Vacation
Thursday, April 26
Guest Post at
A Bookish Affair
Friday, April 27
Review at
Ageless Pages Reviews
Monday, April 30
Review at
Caryn, the Book Whisperer
Tuesday, May 1
Review at
A Bookish Affair
Thursday, May 3
Interview at
The Writing Desk
Monday, May 7
Review at
What Cathy Read Next
Wednesday, May 9
Review at
Svetlana's Reads and Views
Thursday, May 10
Review at
Writing the Renaissance
Friday, May 11
Interview at
Writing the Renaissance
Monday, May 14
Interview at
Let Them Read Books
Wednesday, May 16
Review at
Jorie Loves a Story
Thursday, May 17
Review at
Nicole Evelina
Friday, May 18
Interview at
Nicole Evelina
5 out of 5
(0: Stay away unless a masochist 1: Good for insomnia 2: Horrible but readable; 3: Readable and quickly forgettable, 4: Good, enjoyable 5: Buy it, keep it and never let it go.)