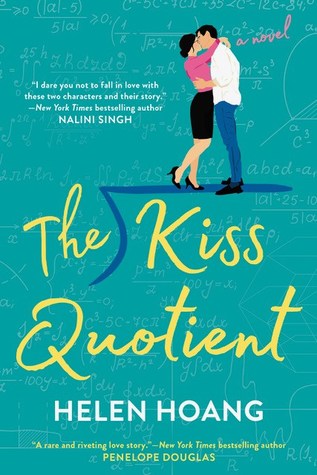 Name of Book:
The Kiss Quotient
Author:
Helen Hoang
ISBN:
978-0-451-49080-3
Publisher:
Berkley
Type of book:
Asperger's, role reversal, California, wealth, escorting, family, coming-of-age, self-acceptance, romance, love, half-Vietnamese half Swedish/white female
Year it was published:
2018
Summary:
A heartwarming and refreshing debut novel that proves one thing: there's not enough data in the world to predict what will make your heart tick.
Stella Lane thinks math is the only thing that unites the universe. She comes up with algorithms to predict customer purchases — a job that has given her more money than she knows what to do with, and way less experience in the dating department than the average thirty-year-old.
It doesn't help that Stella has Asperger's and French kissing reminds her of a shark getting its teeth cleaned by pilot fish. Her conclusion: she needs lots of practice — with a professional. Which is why she hires escort Michael Phan. The Vietnamese and Swedish stunner can't afford to turn down Stella's offer, and agrees to help her check off all the boxes on her lesson plan — from foreplay to more-than-missionary position...
Before long, Stella not only learns to appreciate his kisses, but to crave all the other things he's making her feel. Soon, their no-nonsense partnership starts making a strange kind of sense. And the pattern that emerges will convince Stella that love is the best kind of logic...
Characters:
Main characters would be Michael and Stella. Michael is half Swedish half Vietnamese and works as an escort to help his family out. He often fears becoming like his father and most of the tale is of him wrestling with his inner demons and trying to do the right thing, (albeit the right thing can become a wrong thing...) Michael also looks like Daniel Henney and also enjoys Asian dramas and does kendo and has a dragon tattoo. He is two years younger than Stella and is the only boy in his family and also is fashionable and desires to launch his own line. Stella is an accomplished young woman who works as an econometrician and has been diagnosed with Aspergers. She has very poor sexual experience and wants to improve on that. She enjoys Asian culture a lot (in particular K-Dramas) and has a lot of idiosyncracies as well as peculiarities. She also tends to be awkward in social situations. Despite that she is extremely wealthy, talented and intelligent. She loves work more than people and in most of the book she has to struggle with learning to love herself the way she is.
Theme:
Love is possible for everyone
Plot:
The story is in third person narrative from Stella's and Michael's points of view. One of the things I loved about the tale is the role reversal between Michael and Stella, that is things associated with a man are moved on to a woman, and from a woman to a man, which I was happy to see because I also tend to be a brainy girl (more in arts and creativity rather than math, but still, I often believe I intimidate people around me...) what is also amazing is during a particular scene how they see one another in different parts of the world, yet both share the same feelings. I loved how slow Michael went with Stella and how he never pushed or pressured her into doing things she never wanted to do.
Author Information:
(From the book)
Helen Hoang is that shy person who never talks. Until she does. And then the worst things fly out of her mouth. She read her first romance novel in eighth grade and has been addicted ever since. In 2016, she was diagnosed with autism spectrum disorder in line with what was previously known as Asperger's syndrome. Her journey inspired THE KISS QUOTIENT. She currently lives in San Diego, California with her husband, two kids, and a pet fish. Visit her online at helenhoang.,com, facebook.com/hhoangwrites, instagram.com/hhoangwrites, and twitter.com/hhoangwrites.
Opinion:
I sincerely hope that reading my praise about THE KISS QUOTIENT won't be redundant, but for the one the rare times I am actually in agreement with popular opinion: THE KISS QUOTIENT was one of the best books I have had a chance of reading this year. I really enjoyed everything about it, from the characters to the plot, to presenting a girl with Asperger's, the relationship and learning about the Vietnamese culture. Also loved role reversal and wish to see more books like THE KISS QUOTIENT. The book definitely breathed life into the genre and its an exciting ride from start to finish and every page in between. Only thing is, maybe because I read it during holiday season when I don't have much chance of romance happening in my life, but I felt sad and lonely, especially in knowing the reality: that men like Michael who are accepting and loving of Stella's flaws only exist in imagination rather than in real life.
This was given for a review
5 out of 5
(0: Stay away unless a masochist 1: Good for insomnia 2: Horrible but readable; 3: Readable and quickly forgettable, 4: Good, enjoyable 5: Buy it, keep it and never let it go.)