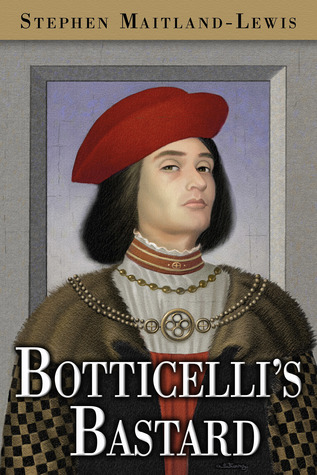 Name of Book:
Botticelli's Bastard
Author:
Stephen Maitland-Lewis
ISBN:
978-0-9832596
Publisher:
Glyd-Evans Press
Type of book:
Art restoration, Italy, modern times, stealing art, France, marriage, widower, supernatural elements, Holocaust, forgiveness, history
Year it was published:
2014
Summary:
Art restorer Giovanni Fabrizzi is haunted by an unsigned renaissance portrait. Obsessed to learn the truth of its origin, he becomes increasingly convinced the painting could be the work of one of history's greatest artists, which if true, would catapult its value to the stratosphere. But in learning of the painting's past, he is faced with a dilemma. He believes the portrait was stolen during the greatest art heist in history -- the Nazi plunder of European artwork. If true and a surviving relative of the painting's rightful owner were still alive, Giovanni, in all good conscience, would have to give up the potential masterpiece. His obsession with the portrait puts a strain on his new marriage, and his son thinks his father has lost his mind for believing an unremarkable, unsigned painting could be worth anyone's attention. Regardless, Giovanni persists in his quest of discovery and exposes far more truth than he ever wanted to know.
Characters:
The main characters include Giovanni Fabrizzi who comes from a family of art restorers and discovers a mysterious painting that claims to be Botticelli, and gives Giovanni a fascinating history of its owners, ultimately having Giovanni questioning the right thing to do. I admit that I found Giovanni to be admirable in trying to do the right instead of following the mainstream thoughts. I have to say that the Count was pretty fascinating himself and wish that more supernatural elements were explained in the story. The voice and the character really do match the painting. While other characters such as Giovanni's wife Arabella and his son do play a role, I feel that their roles weren't as memorable as that of Giovanni and the Count.
Theme:
Survival precedes everything
Plot:
The story is written in third person narrative from Giovanni's point of view, although once in a while we do get points of views of some other characters such as Arabella or Giovanni's son. I do feel that changing points of view were written awkwardly and happened a little too suddenly for me. This is a really fast read yet interesting book, and I feel that with a little more work, it can be something memorable and special.
Author Information:
(From Italy Book Tours)
Stephen Maitland-Lewis is an award-winning author, a British attorney, and a former international investment banker. He held senior positions in the City of London, Kuwait, and on Wall Street before moving to California in 1991. He owned a luxury hotel and a world-renowned restaurant and was also the Director of Marketing of a Los Angeles daily newspaper. Maitland-Lewis is a jazz aficionado and a Board Trustee of the Louis Armstrong House Museum in New York. A member of PEN and the Author's Guild, Maitland-Lewis is also on the Executive Committee of the International Mystery Writers Festival.
His novel
Hero on Three Continents
received numerous accolades, and
Emeralds Never Fade
won the 2012 Benjamin Franklin Award for Historical Fiction and the 2011 Written Arts Award for Best Fiction. His novel
Ambition
was a 2013 USA Best Book Awards and 2014 International Book Awards finalist and won first place for General Fiction in the 2013 Rebecca's Reads Choice Awards. Maitland-Lewis and his wife, Joni Berry, divide their time between their homes in Beverly Hills and New Orleans.
Connect with Stephen:
Website
~
Facebook
~
Twitter
Opinion:
I'm actually a bit torn in giving the book either three or four stars. There are a lot of strong elements that I liked in this story such as the character voices and dialogues as well as how the mysterious count was written and how I found it interesting to listen to him. The story also touches on some interesting plots as well, such as one about forgiveness and doing what's possible to survive. Where the story did have potential but needed more care is the explanations of supernatural aspect, how and why the count was able to communicate with Giovanni, and I also would have liked to know more about Clara and Giovanni's uncle and to see a clear resolution for both of them.
This is for Italy Book Tours
Tour Schedule:
This tour is fully booked:
Nov 17 -
Coffee Books & Art
- book spotlight / guest post / giveaway
Nov 17 -
Unshelfish
- review / giveaway
Nov 18 -
Italophilia!
- review / author interview / giveaway
Nov 18 -
Deal Sharing Aunt
- review
Nov 19 -
Man of la Book
- review / giveaway
Nov 19 -
Cheryl's Book Nook
- review / author interview / giveaway
Nov 20 -
Readers' Muse
- review / giveaway
Nov 21 -
Views from the Countryside
- review
Nov 24 -
Diary of an Eccentric
- review
Nov 24 -
Studentessa Matta
- review / giveaway
Nov 26 -
allthingsbookie
- review
Nov 26 -
Being Tilly's Mummy
- review / giveaway
Nov 26 -
Being Tilly's Mummy
- author interview
Nov 28 -
Il Mio Tesoro
- review / author interview / giveaway
Dec 1 -
Library Educated
- review
Dec 2 -
Luxury Reading
- review / giveaway
Dec 3 -
Nighttime Reading Center
- review / giveaway
Dec 3 -
Nighttime Reading Center
- author interview
Dec 3
-
Svetlana's Reads and Views
- review
Dec 4 -
Roughseasinthemed
- review
Dec 5 -
Library of Clean Reads
- review / giveaway
Dec 5 -
Like a Bump on a Blog
- guest post / giveaway
Dec 5 -
Cici's Theories
- review / guest post / giveaway
TBD -
Food Lover's Odyssey
- review / giveaway
4 out of 5
(0: Stay away unless a masochist 1: Good for insomnia 2: Horrible but readable; 3: Readable and quickly forgettable, 4: Good, enjoyable 5: Buy it, keep it and never let it go.)