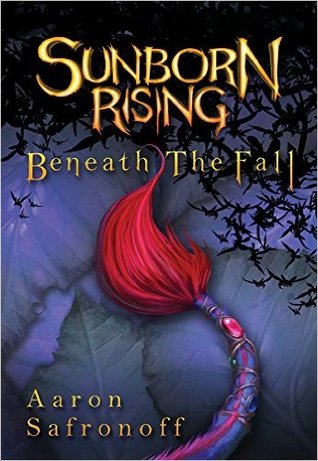 Name of Book:
Sunborn Rising; Beneath the Fall
Author:
Aaron Safronoff
ISBN:
978-1-944606-00-8
Publisher:
Neoglyphic Entertainment
Type of book:
picture books, children/young adult, fantasy, environment, secrets, darkness, discoveries, family, community, journal, diseases, new friends, help, strong heroine
Year it was published:
2016
Summary:
On a distant world of forests floating on an ocean around a star, a blight threatens to plunge all life into darkness.
But three friends seek the light.
Together, they will Fall and be lost.
And at the very Root of darkness, they will find themselves.
But will it be enough to help them find their way home?
The World of Cerulean
Light and water flow from the ocean into the roots of the Great Trees, up through the boughs, and out over the lush canopies. But the once vibrant treescape has grown dim over generations of arboreal life, and the creatures of the forest have forgotten the light.
Barra, a young, willful Listlespur, finds her late father's hidden journal, and reads about the old world and the mysterious plague her father believed destroyed it. He wrote that he warned the Elders. He urged them to take action. Those were his last words.
Together with her two best friends, Barra will explore every bark, wood, and leaf of the Great Forest to relight her world and complete her father's story, even if she has to travel beneath the Fall.
Characters:
The main character is Barra who is best described as adventurous, impatient, a leader and extremely curious. She is not the type to be frightened easily by challenges. Plicks is Barra's friend and a bit opposite of Barra being caring, patient, shy and he also gets easily frightened. Also, unlike Barra and Tory, Plicks has capability of flying/gliding. Tory strikes me as creative and very gentle, and he in terms of being adventurous is somewhere between Barra and Plicks. There are other characters such as Fizzit who are best described as an enigma, and there are also three unique jelly creatures that are a great deal of help to the three friends and seem to be mind readers of sorts.
Theme:
It takes everyone to change destiny
Plot:
The narrative is told in third person narrative from Barra's point of view, although her friends and a few other characters also were given voices. What is pretty impressive is that while the story does not start in the middle of action and it starts in beginning, the author does not dump information but instead parcels it out throughout the book. I do feel that some things about the world are not fully explained as I wished; for example, what is the importance of tying keepsakes on their tails? Or I also was curious about a few antagonists of the book and feel as if only minimum was addressed instead of it being fleshed out.
Author Information:
(From inside the book)
Aaron Safronoff was born and raised in Michigan where he wrote his first novella, Evening Breezes. In his early twenties, he moved to California to attend culinary school. He fell in love with the Bay Area and has never considered leaving, although he did eventually leave the school.
During his ten years in the games industry, he worked at various levels and for several disciplines including quality assurance, production and design. All the while he was writing a novel, short stories, plays, and poetry. His career in design introduced him to amazingly intelligent, fun, and creative people, many of whom he considers family today.
Safronoff self0published, Spire, in 2011, and won the Science Fiction Dsicovery Award for the same in the summer of 2012. By the end of that year he decided to drop everthing and free fall into fiction, In the following three months he completed work on teh sequel to Spire, Flal Spire, edited Evening Breezes, and published both.
Today, Safronoff is co-founder and Chief Storyteller of Neoglyphic Entertainment and working on his fifth novel, the second book of the Sunbron Rising series. In his spare time, Safronoff enjoys reading a variety of authors, Phillip K, Dick, Cormac McCarthy and Joe Abercrombie among them, He enjoys living near the ocean, playing and watching hockey, and video games. He has a depe love of music and comedy.
Connect with the author:
Website ~ Twitter ~ Facebook
Opinion:
At the moment my little boy cannot give his opinion about the book, being only three months of age, although if all goes okay, and when he grows up, I do promise to include his opinions in my reviews of children's books. The pictures are very captivating and for those who are concerned about the portrayal of a strong female protagonist, this story has quite a few of them, and yes, this female protagonist is a leader and puts herself in danger far more than her friends do. I also liked the world building and discovering it through the protagonists' eyes. I do feel that some details weren't explained as clearly, but I feel if I mention which details I'm talking about, I will end up spoiling the story. Only thing I'll mention is those details are near the end of the story. The book is also a fresh air into the fantasy genre, at least fantasy novels I read previously because it emphasizes more community and family as well as friends rather than the traditional "chosen hero" that must save the world.
This is for iRead Book Tours
TOUR SCHEDULE:
July 4 -
Library of Clean Reads
- book spotlight / author interview / giveaway
July 4 -
A Bookworm's Musing
- review
July 5 -
Heidi's Wanderings
- review / giveaway
July 5 -
Rockin' Book Reviews
- review / guest post / giveaway
July 6 -
The Autistic Gamer
- review
July 6 -
Discovering/Writing Life
- review / author interview / giveaway
July 7 -
Svetlana's Reads and Views
- review
July 7 -
misty103 @ HubPages
- review / author interview
July 7 -
Reading Authors
- review / giveaway
July 8 -
#redhead.with.book
- book spotlight / giveaway
July 8 -
Science & Fiction
- review / author interview
July 10 -
Writers and Authors
- book spotlight
July 11 -
Working Mommy Journal
- review / giveaway
July 11 -
Room With Books - book spotlight / guest post / giveaway
July 12 -
Bookworm for Kids
- review
July 12 -
Book Reviews Nature Photos of Everything in Between
- review
July 13 -
A Mama's Corner of the World
- review / giveaway
July 13 -
Blooming with Books - review / giveaway
July 14 -
fuonlyknew
- review / giveaway
July 15 -
BOOKSOMEREADS
- review
July 15 -
The Travelogue of a Book Addict - The Book Drealms
- review / giveaway
July 18 -
Library of Clean Reads
- review / giveaway
July 18 -
Puddletown Reviews
- review / giveaway
July 19 -
100 Pages A Day
- review / giveaway
July 20 -
JBronder Book Reviews
- review / giveaway
July 21 -
Readers Muse
- review / guest post
July 22 -
3 Partners in Shopping Nana, Mommy , + Sissy, Too!
- review / giveaway
July 25 -
Tales of the Marvelous
- review / author interview
July 26 -
Brooke Blogs
- review / guest post / giveaway
July 27 -
Cheryl's Book Nook
- review / giveaway
July 28 -
Life as Leels
- review
July 29 -
Pause for Tales
- review
July 29 -
New Horizon Reviews
- review
4 out of 5
(0: Stay away unless a masochist 1: Good for insomnia 2: Horrible but readable; 3: Readable and quickly forgettable, 4: Good, enjoyable 5: Buy it, keep it and never let it go.)