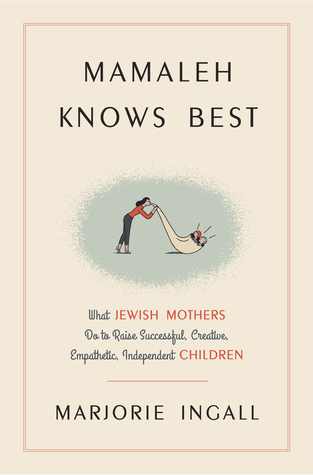 Title of the book:
Mamaleh knows best what Jewish mothers do to raise successful, creative empathetic independent children
Author:
Marjorie Ingall
Publisher:
Harmony Books
Publishing Date:
2016
ISBN:
978-0-8041-4141-3
Summary:
We all know the stereotype of the Jewish mother: Hectoring, guilt-inducing, clingy as a limpet. In Mamaleh Knows Best, Tablet Magazine columnist Marjorie Ingall smashes this tired trope with a hammer.
Blending personal anecdotes, humor, historical texts, and scientific research, Ingall shares Jewish secrets for raising self-sufficient, ethical, and accomplished children. She offers abundant examples showing how Jewish mothers have nurtured their children's independence, fostered discipline, urged a healthy distrust of authority, consciously cultivated geekiness and kindness, stressed education, and maintained a sense of humor. These time-tested strategies are the reason Jews have triumphed in a wide variety of settings and fields over the vast span of history.
Ingall will make you think, she will make you laugh, and she will make you a better parent. You might not produce a Nobel Prize winner, but you'll definitely get a great human being.
Author Info:
(From the book)
Marjorie Ingall is a columnist for Tablet Magazine,the National Magazine Award-wining journal of Jewish culture and ideas, and a regular contributor to The New York TImes Book Review. For seven years she wrote the East Village Mamele column for The Jewish Daily Forward. She has been a contributing editor at Glamour and a contributing writer at Self, and she ahs written for Ms., Wired, Real Simple, Redbook, Parents, Parenting,m and the late lamented Sassy, where she was a senior writer and the books editor. She is the author of The Field Guide to North American Males, coauthro of Hungry with fashion model Crystal Renn, and coauthor of Smart Sex with Jessica Vitkus. SHe is a former senior writer and producer at the Oxygen TV network, where she discovered her perkiness levels were not sufficient for a job in daytime talk telivision.
Personal Opinion:
I think the title and the fact that I come from the background drew me into the book in the first place. Although I might be more of an outlier than a statistic, I was curious on how much the tips and advice could be applied to the way I was raised. While a lot of advice and tips are familiar, there are some that I didn't have and could have benefited from. Curiously enough, this could best be described as antithesis to Tiger Mom parenting which seems to focus a lot more on the immediate results, at least to me. This book focuses a lot more on long-term results and it also happens to be succinct and could be read by anyone. The advice will be both common sense yet something that seems to be different than the traditional parenting advice.
This is for Blogging for Books
4 out of 5
(0: Stay away unless a masochist 1: Good for insomnia 2: Horrible but readable; 3: Readable and quickly forgettable, 4: Good, enjoyable 5: Buy it, keep it and never let it go.)