Guess I'm late on posting what is meant to be last week's diverse reads on my blog for last week and will post it this week. Recently I have been contemplating that it's a shame that I cannot promote some of my favorite authors (Sue Harrison and Pearl Buck are just two) as diverse, although both write of marginalized cultures respectfully and beautifully. So I came up with something I will call Allies of Diversity which will promote authors of European or American descent that dare to tackle-respectfully-cultures that are different than the ones they were raised with. I do hope what I will do will not be seen as offensive by others, but its something I have been wrestling with for a while; I used to write Asian Male/White female stories where I did my best to portray Asian male as both a hero and a human, (Actually quite a few of my Asian ex-boyfriends read a particular story, and they all had high compliments for it.) but by others my story will not be seen as diverse simply because others will think a white woman is writing the story and she has no understanding or compassion for the Asian culture. As mentioned, the upcoming post(s) will be promoted as Allies of Diversity rather than Diverse Reads.
Blast from the Past
The Foreign Student by Susan Choi
Highly acclaimed by critics, The Foreign Student is the story of a young Korean man, scarred by war, and the deeply troubled daughter of a wealthy Southern American family. In 1955, a new student arrives at a small college in the Tennessee mountains. Chuck is shy, speaks English haltingly, and on the subject of his earlier life in Korea he will not speak at all. Then he meets Katherine, a beautiful and solitary young woman who, like Chuck, is haunted by some dark episode in her past. Without quite knowing why, these two outsiders are drawn together, each sensing in the other the possibility of salvation. Moving between the American South and South Korea, between an adolescent girl's sexual awakening and a young man's nightmarish memories of war, The Foreign Student is a powerful and emotionally gripping work of fiction.
Why It's Diverse:
The author is of Jewish and Korean ancestry (Russian-Jewish mother and Korean father) this book deals with effects of Korean War along with hidden racism experienced by Chuck as well as talking about Korea-Japan and Korea-America relations. A very enlightening and beautiful read.
One Hundred Secret Senses by Amy Tan
From amazon: "Olivia, the narrator of this story, was born to an American mother and a Chinese father. She meets her 18-year-old Chinese half sister, Kwan, for the first time shortly after their father's death. Kwan adores "Libby-ah" and tries to introduce her to her Chinese heritage through stories and memories. Olivia is embarrassed by her sibling, but finds as she matures that she has inadvertently absorbed much about Chinese superstitions, spirits, and reincarnation. Olivia explains, "My sister Kwan believes she has Yin eyes. She sees those who have died and now dwell in the World of Yin..." Now in her mid-30s, Olivia, a photographer, is still seeking a meaningful life. The climax of the story comes when she and her estranged husband Simeon, a writer, go to China on assignment with Kwan as the interpreter. In the village in which she grew up, Kwan returns to the world of Yin, her mission completed. Olivia finally learns what Kwan was trying to show her: "If people we love die, then they are lost only to our ordinary senses. If we remember, we can find them anytime with our hundred secret senses." The meshing of the contemporary story of Olivia and the tales Kwan tells of her past life in late-19th century China may confuse some readers. "
Why It's Diverse:
The book is written by a Chinese-American author most famous for her The Joy Luck Club. Unfortunately she depicts Asian male/white female relationships negatively, and Chinese men are also depicted badly in the book. (The main character's white mother isn't able to keep her promises that she made to the father, and the mother is not a mother towards the main character...the father is sneaky and has a lot of secrets that he never shared with his family.)
The Kitchen God's Wife by Amy Tan
From amazon: " Fans of Tan's Joy Luck Club (Putnam, 1989) will love her powerful second novel. Here she creates an absorbing story about the lives of a Chinese mother and her adult American-born daughter. Pressured to reveal to the young woman her secret past in war-torn China in the 1940s, Winnie weaves an unbelievable account of a childhood of loneliness and abandonment and a young adulthood marred by a nightmarish arranged marriage. Winnie survives her many ordeals because of the friendship and strength of her female friends, the love of her second husband, and her own steadfast courage and endurance. At the conclusion, her secrets are uncovered and she shares a trust/love relationship with her daughter, Pearl, that was missing from both their lives. Some YAs may find the beginning a bit slow, but this beautifully written, heartrending, sometimes violent story with strong characterization will captivate their interest to the very last page.
"
Why It's Diverse:
Just like with Alexandre Dumas, this book came after One Hundred Secret Senses, so I am sorry for the constant repetition. The book is written by a Chinese-American author most famous for her The Joy Luck Club.Just like in previous book, this one depicts the main male character extremely negative and even dares to use the famous penis stereotype. Not friendly towards Asian men.
Future Reviews:
Where'd You Go Bernadette by Maria Semple
(The story features Bee who has heart issues, and her mother who can be seen either as extremely quirky or someone grappling with mental illnesses)
Bernadette Fox is notorious. To her Microsoft-guru husband, she's a fearlessly opinionated partner; to fellow private-school mothers in Seattle, she's a disgrace; to design mavens, she's a revolutionary architect, and to 15-year-old Bee, she is a best friend and, simply, Mom.
Then Bernadette disappears. It began when Bee aced her report card and claimed her promised reward: a family trip to Antarctica. But Bernadette's intensifying allergy to Seattle—and people in general—has made her so agoraphobic that a virtual assistant in India now runs her most basic errands. A trip to the end of the earth is problematic.
To find her mother, Bee compiles email messages, official documents, secret correspondence—creating a compulsively readable and touching novel about misplaced genius and a mother and daughter's role in an absurd world.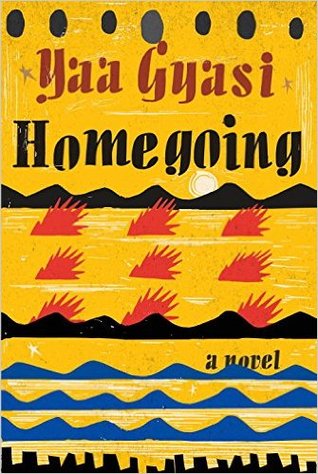 Homegoing by Yaa Gyasi
The unforgettable New York Times best seller begins with the story of two half-sisters, separated by forces beyond their control: one sold into slavery, the other married to a British slaver. Written with tremendous sweep and power, Homegoing traces the generations of family who follow, as their destinies lead them through two continents and three hundred years of history, each life indeliably drawn, as the legacy of slavery is fully revealed in light of the present day.
Effia and Esi are born into different villages in eighteenth-century Ghana. Effia is married off to an Englishman and lives in comfort in the palatial rooms of Cape Coast Castle. Unbeknownst to Effia, her sister, Esi, is imprisoned beneath her in the castle's dungeons, sold with thousands of others into the Gold Coast's booming slave trade, and shipped off to America, where her children and grandchildren will be raised in slavery. One thread of Homegoing follows Effia's descendants through centuries of warfare in Ghana, as the Fante and Asante nations wrestle with the slave trade and British colonization. The other thread follows Esi and her children into America. From the plantations of the South to the Civil War and the Great Migration, from the coal mines of Pratt City, Alabama, to the jazz clubs and dope houses of twentieth-century Harlem, right up through the present day, Homegoing makes history visceral, and captures, with singular and stunning immediacy, how the memory of captivity came to be inscribed in the soul of a nation.
3 Diverse Books I will tackle this year:
One Half From the East-Nadia Hashimi
Internationally bestselling author Nadia Hashimi's first novel for young readers is an emotional, beautiful, and riveting coming-of-age journey to modern-day Afghanistan that explores life as a bacha posh—a preteen girl dressed as a boy.
Obayda's family is in need of some good fortune.
Her father lost one of his legs in a bomb explosion, forcing the family to move from their home city of Kabul to a small village, where life is very different and Obayda's father almost never leaves his room.
One day, Obayda's aunt has an idea to bring the family luck—dress Obayda, the youngest of her sisters, as a boy, a bacha posh.
Now Obayda is Obayd.
Life in this in-between place is confusing, but once Obayda meets another bacha posh, everything changes. The two of them can explore the village on their own, climbing trees, playing sports, and more.
But their transformation won't last forever—unless the two best friends can figure out a way to make it stick and make their newfound freedoms endure.
The Republic of Užupis by Haïlji, Bruce Fulton (Translator), Ju-Chan Fulton (Translator)
Uzupis (on the other side of the river) is, in reality, a neighborhood in Lithuania's capital city of Vilnius, which took the peculiar step of declaring itself an independent republic in 1997. In this novel, however, it is the lost homeland of a middle-aged man named Hal, who lands in Lithuania hoping to travel back to the town of his birth in order to bury his father's ashes there -- in a place that might not really exist. In a literary tradition dominated by social realism, The Republic of Uzupis is a unique work of melancholy, Murakami-esque whimsy.
Pachinko by Min Jin Lee
A new tour de force from the bestselling author of Free Food for Millionaires, for readers of The Kite Runner and Cutting for Stone.
Pachinko follows one Korean family through the generations, beginning in early 1900s Korea with Sunja, the prized daughter of a poor yet proud family, whose unplanned pregnancy threatens to shame them all. Deserted by her lover, Sunja is saved when a young tubercular minister offers to marry and bring her to Japan.
So begins a sweeping saga of an exceptional family in exile from its homeland and caught in the indifferent arc of history. Through desperate struggles and hard-won triumphs, its members are bound together by deep roots as they face enduring questions of faith, family, and identity.