Is it me or are things really beginning to fall apart within the world? I am beginning to think that they are falling apart, that history is not used or remembered as it should be. I wonder what will the future generations learn about us? Will they whitewash this period of time in rainbows and butterflies, or will they remember the starkness of the times? The ugly natures of people popping up like ravenous werewolves gorging on a snack of hatred? I want to be an optimist but I am not, and I feel as if endless repetitions will happen for an eternity.
Blast from the Past
Tempted Tigress by Jade Lee
Not only did China's Grand Canal transport food, slaves, and deadly opium, today it was a woman's path to freedom. But her flight would end in the arms of the emperor's enforcer, where another journey would begin. Orphaned and stranded, Anna Marie Thompson could trust no one, especially not her dark captor. Not when his eyes held secrets deadlier than her own. His caress was liquid fire, but Anna was an Englishwoman and alone. She could not trust that they could tame the dragon, as he whispered, or that sadness and fear could be cleansed by soft yin rain. Safety and joy were but a breath away. And perhaps love. All was there for the taking, if she would just give in to temptation...
Why It's Diverse:
Jade Lee is mixed, half Chinese from her mother and half American from her father. It also features an Asian male/white female pairing and it's one of my favorite romance novels. The heroine also has addiction to opium.
The Chosen by Chaim Potok
Few stories offer more warmth, wisdom, or generosity than this tale of two boys, their fathers, their friendship, and the chaotic times in which they live. Though on the surface it explores religious faith--the intellectually committed as well as the passionately observant--the struggles addressed in The Chosen are familiar to families of all faiths and in all nations.
In 1940s Brooklyn, New York, an accident throws Reuven Malther and Danny Saunders together. Despite their differences (Reuven is a Modern Orthodox Jew with an intellectual, Zionist father; Danny is the brilliant son and rightful heir to a Hasidic rebbe), the young men form a deep, if unlikely, friendship. Together they negotiate adolescence, family conflicts, the crisis of faith engendered when Holocaust stories begin to emerge in the U.S., loss, love, and the journey to adulthood. The intellectual and spiritual clashes between fathers, between each son and his own father, and between the two young men, provide a unique backdrop for this exploration of fathers, sons, faith, loyalty, and, ultimately, the power of love. (This is not a conventional children's book, although it will move any wise child age 12 or older, and often appears on summer reading lists for high school students.)
Why It's Diverse:
The author is Jewish and this particular story examines Judaism and destiny from modern Orthodox to Hasidic points of views. Both Danny and Reuven are practicing Jews in the book and are living in a Jewish world.
The Promise by Chaim Potok
For young Reuven Malter, it is a time of testing. With his teachers, he struggles for recognition of his boldly radical methods of scholarship. With his old friend Danny Saunders-who himself had abandoned his legacy as the chosen heir to his father's rabbinical dynasty for the uncertain life of a healer-he battles to save a sensisitive boy imprisoned by his genius and rage, defeated by the same forces of an unyielding past that challenge Reuven. Painfully, and, at last, triumphantly, Reuven grows into a guardian of the ancient, sacred promise to his people, while earning his hard-fought right to make his own beginning.
Why It's Diverse:
(This book came immediately after The Chosen) The author is Jewish and the characters are practicing Jews. In this story, Judaism is examined through self hatred as well as the impact Holocaust had on Jews.
Future Reviews:
Where'd You Go Bernadette by Maria Semple
(The story features Bee who has heart issues, and her mother who can be seen either as extremely quirky or someone grappling with mental illnesses)
Bernadette Fox is notorious. To her Microsoft-guru husband, she's a fearlessly opinionated partner; to fellow private-school mothers in Seattle, she's a disgrace; to design mavens, she's a revolutionary architect, and to 15-year-old Bee, she is a best friend and, simply, Mom.
Then Bernadette disappears. It began when Bee aced her report card and claimed her promised reward: a family trip to Antarctica. But Bernadette's intensifying allergy to Seattle—and people in general—has made her so agoraphobic that a virtual assistant in India now runs her most basic errands. A trip to the end of the earth is problematic.
To find her mother, Bee compiles email messages, official documents, secret correspondence—creating a compulsively readable and touching novel about misplaced genius and a mother and daughter's role in an absurd world.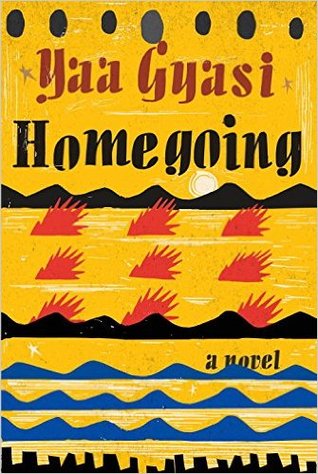 Homegoing by Yaa Gyasi
The unforgettable New York Times best seller begins with the story of two half-sisters, separated by forces beyond their control: one sold into slavery, the other married to a British slaver. Written with tremendous sweep and power, Homegoing traces the generations of family who follow, as their destinies lead them through two continents and three hundred years of history, each life indeliably drawn, as the legacy of slavery is fully revealed in light of the present day.
Effia and Esi are born into different villages in eighteenth-century Ghana. Effia is married off to an Englishman and lives in comfort in the palatial rooms of Cape Coast Castle. Unbeknownst to Effia, her sister, Esi, is imprisoned beneath her in the castle's dungeons, sold with thousands of others into the Gold Coast's booming slave trade, and shipped off to America, where her children and grandchildren will be raised in slavery. One thread of Homegoing follows Effia's descendants through centuries of warfare in Ghana, as the Fante and Asante nations wrestle with the slave trade and British colonization. The other thread follows Esi and her children into America. From the plantations of the South to the Civil War and the Great Migration, from the coal mines of Pratt City, Alabama, to the jazz clubs and dope houses of twentieth-century Harlem, right up through the present day, Homegoing makes history visceral, and captures, with singular and stunning immediacy, how the memory of captivity came to be inscribed in the soul of a nation.
What I am Reading Now:
The Most Dangerous Thing by Leanne Lieberman
Sixteen-year-old Sydney hates to talk (or even think) about sex. She's also fighting a secret battle against depression, and she's sure she'll never have a boyfriend. When her classmate Paul starts texting and sending her nature photos, she is caught off guard by his interest. Always uncomfortable with any talk about sex, Sydney is shocked when her extroverted sister, Abby, announces that she is going to put on The Vagina Monologues at school. Despite her discomfort, Sydney starts to reexamine her relationship with her body, and with Paul. But her depression worsens, and with the help of her friends, her family, a therapist and some medication, she grapples with what she calls the most dangerous thing about sex: female desire.
Pages: 122 out of 225
One Half from the East by Nadia Hashimi
Internationally bestselling author Nadia Hashimi's first novel for young readers is an emotional, beautiful, and riveting coming-of-age journey to modern-day Afghanistan that explores life as a bacha posh—a preteen girl dressed as a boy.
Obayda's family is in need of some good fortune.
Her father lost one of his legs in a bomb explosion, forcing the family to move from their home city of Kabul to a small village, where life is very different and Obayda's father almost never leaves his room.
One day, Obayda's aunt has an idea to bring the family luck—dress Obayda, the youngest of her sisters, as a boy, a bacha posh.
Now Obayda is Obayd.
Life in this in-between place is confusing, but once Obayda meets another bacha posh, everything changes. The two of them can explore the village on their own, climbing trees, playing sports, and more.
But their transformation won't last forever—unless the two best friends can figure out a way to make it stick and make their newfound freedoms endure.
Pages: 151 out of 256
3 Books I am planning on tackling this year:
The Republic of Užupis by Haïlji, Bruce Fulton (Translator), Ju-Chan Fulton (Translator)
Uzupis (on the other side of the river) is, in reality, a neighborhood in Lithuania's capital city of Vilnius, which took the peculiar step of declaring itself an independent republic in 1997. In this novel, however, it is the lost homeland of a middle-aged man named Hal, who lands in Lithuania hoping to travel back to the town of his birth in order to bury his father's ashes there -- in a place that might not really exist. In a literary tradition dominated by social realism, The Republic of Uzupis is a unique work of melancholy, Murakami-esque whimsy.
Pachinko by Min Jin Lee
A new tour de force from the bestselling author of Free Food for Millionaires, for readers of The Kite Runner and Cutting for Stone.
Pachinko follows one Korean family through the generations, beginning in early 1900s Korea with Sunja, the prized daughter of a poor yet proud family, whose unplanned pregnancy threatens to shame them all. Deserted by her lover, Sunja is saved when a young tubercular minister offers to marry and bring her to Japan.
So begins a sweeping saga of an exceptional family in exile from its homeland and caught in the indifferent arc of history. Through desperate struggles and hard-won triumphs, its members are bound together by deep roots as they face enduring questions of faith, family, and identity.
Casey Han's four years at Princeton gave her many things, "But no job and a number of bad habits." Casey's parents, who live in Queens, are Korean immigrants working in a dry cleaner, desperately trying to hold on to their culture and their identity. Their daughter, on the other hand, has entered into rarified American society via scholarships. But after graduation, Casey sees the reality of having expensive habits without the means to sustain them. As she navigates Manhattan, we see her life and the lives around her, culminating in a portrait of New York City and its world of haves and have-nots. FREE FOOD FOR MILLIONAIRES offers up a fresh exploration of the complex layers we inhabit both in society and within ourselves. Inspired by 19th century novels such as Vanity Fair and Middlemarch, Min Jin Lee examines maintaining one's identity within changing communities in what is her remarkably assured debut.